Sedona is one of my favorite places to visit. Here's my quick guide to the best things to do in Sedona! Updated frequently.
What to do in Sedona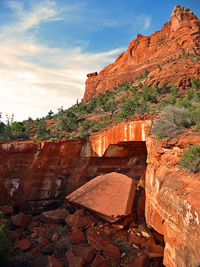 I've been visiting Sedona ever since I was a child (having grown up in Arizona). It has been a favorite destination for my parents and now my wife and I, along with our young daughter.
If you happen to be on the way to Flagstaff or The Grand Canyon, you can drive through Sedona and continue to Flagstaff. The drive to Flagstaff from Sedona is particularly beautiful, and only takes about 45 minutes! If you are making your way to Flagstaff, or The Grand Canyon and have a little bit of extra time, I suggest taking this route. It's a winding road with sharp curves that offer beautiful views of the Oak Creek valley. Stunning!
Sedona is a respite from the desert heat in the summertime, and a way to see snow and beautiful pine trees year round.
Hiking in Sedona
My favorite place to hike in Sedona is the West Fork Trail of Oak Creek Canyon. It is very popular for the following reasons:
Beautiful hiking along a stream (typically only a few inches deep, and easy to cross)
Tall cliffs shade and shelter the canyon
Tall pine, oak, aspen, and apple trees
Mostly level hiking – easy to moderate
Allow 2-3 hours to complete the 6 mile hike (or, go an additional 11 miles)
You can learn a lot more about the trail online, here are a couple of resources for you:
What else can you do in Sedona?
Well, there is tremendous shopping in Sedona and you'll find plenty of art galleries, restaurants, and travel companies offering to take you on a Jeep tour of the back country. In fact, the Jeep tour are very exciting, and worth the expense – they'll take you back in the woods, and along creek beds to see the classic red rocks of Sedona. There are a couple of off-road tour companies you can select.
One stop I highly recommend is a visit to Red Rock Crossing State Park. There is a wonderful view of Cathedral Rock and you can view it from a vantage point that includes a stream. It's beautiful!
Schnebly Hill Road
Another route to Flagstaff is Schnebly Hill Road. This road requires a high-clearance vehicle and some extra time. It affords beautiful views of the Sedona red rock valley. Be sure to fill your gas tank before departing as the road is rocky and over 13 miles long. The road ends at I-17 and you can take that to Flagstaff, or Phoenix.
Getting there
Looking for directions to Sedona from Phoenix? It's easy. Drive north on I-17 and follow the signs. You'll want to take exit 298 for State Highway 179 N after about 100 miles. Then, follow that road directly into Sedona. It's fairly easy, and only takes about 2 hours from Phoenix. It will be impossible to miss.