If you're looking for something different to do with the kids through out the week. Try Pump It Up, an indoor play land filled with gigantic inflatable bouncy houses. This is one activity kids and parents are sure to love. There are two Pump It Up locations in Arizona, one in Tempe and the other in Peoria.
Open Jump
Ever Monday through Friday, Pump It Up offers Open Jump. Children of various ages can enjoy hours of fun on inflatable slides, obstetrical courses, and bouncy surfaces. Adults can join in the fun as well. The staff at Pump It Up provide constant supervision in the inflatable play areas to insure safety and fair play.
Younger children must be at least 34 inches tall to play on equipment. To help maintain a healthy and clean play experience, socks are required at all times. Before using the equipment all participants must fill out a waivers and watch a safely video.
Pump it Up also has Open Jump on holidays and when school is out. It's $8.50 per child for a 3 hour jumping session. You may jump twice for free if you are a Pogo Pass holder. To become a Pogo Pass holder the use promo code to get 60% off Membership and visit many other cool places for a one time fee.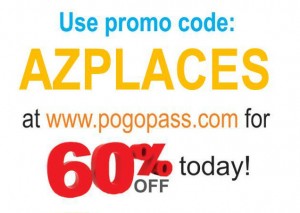 Pogo Pass is not valid on holidays or special events at Pump it up, however you can gain admission for 50% off.
Glow Jump 
Glow Jump is Open Jump except with black lights! Have all the fun you would with normal Open Jump plus a twist with special effects lighting and glow in the dark necklaces. Wear white or neon colored clothing to glow the best in the black light. Glow Jump is available on all Tuesday and Thursday afternoons. Pogo Passes work for Glow Jump admission too!
Parent's Night Out 
All moms and dads need a break now and then, and that's why Pump It Up offer Parent's Night Out. Pump It Up is a licensed children's drop off center. Children can enjoy 3 hours of supervised bouncy exercise, games, and new friends. Parents don't need to worry about dinner either, it will be provided by staff. Parent's Night Out takes place every Friday night From 6:30 to 9:30 pm. This special event is for children ages 3 and up and costs $20 dollars per child.
Birthday Parties
Pump it up is a popular place to host a child's birthday party. In fact, the staff will host the party for you. They will sets up, cleans up, as well as coordinates food and beverages so mom can enjoy the party too. Every party is completely private, no party crashers. Pump It Up has several different party themes to choose from. Parents can bring there own party favors or goodie bags can be included in the birthday party package.
Be sure to make party reservations, fill out your waivers, and wear socks!