I've been visiting some more food trucks recently, and have had a chance to try the Mexican food offered by Luncha Libre. They're a food truck that frequents Phoenix and Scottsdale locations and also finds special events. I saw them at the Press Coffee latte art competition in Phoenix (south of the airport) as well as up in North Scottsdale at an office complex.
Luncha Libre primarily serves tacos, quesadillas, and tortas. But they've also served burgers, desserts, and whatever they feel like serving. The menu changes frequently, and so you'll always be surprised, and they are coming up with new creations often. They've also got some really good chips and salsa, which they make themselves. They've also got a tasty stuffed churro for sale which is fairly popular.
On my first visit, I tried the Thai'd Up dish, and absolutely loved the flavor. If you're worried that the food will be covered in greese, don't worry, because it isn't. And their chips are really nice and crisp, and they serve them with delicious home made salsa's. The food is absolutely filled with flavor, and you won't leave hungry.
On my second visit, I dragged my family out of the house on a Monday to go get lunch because they were nearby. On this visit, I tried the Steak & Blue Quesadilla and really loved it. I was worried the blue cheese would overpower the dish, but it didn't. The beef was cooked perfectly and wasn't overdone or anything. These guys really know what they're doing, and don't skimp on ingredients. These quesadilla's are loaded with cheese, and are thick cuts of amazing flavors! It's my new favorite Mexican food truck.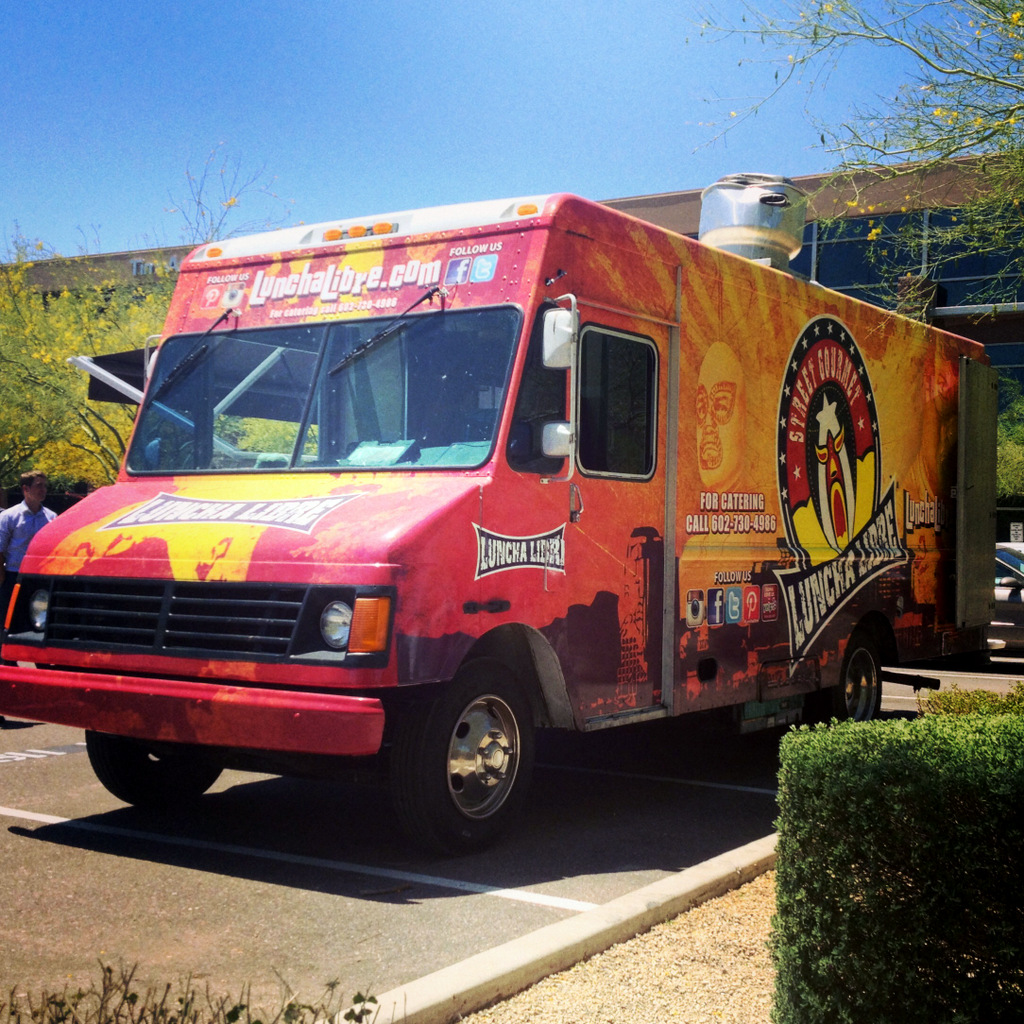 Some of the recent items for sale include:
The Breakfast Dilla — Potatoes, Green Chile, Pico de Gallo, Jack Cheese and Chorizo with Sweet Thai Chile Sauce. Depending on the time of day, this can also be called the Brunch Dilla or the Luncha Dilla.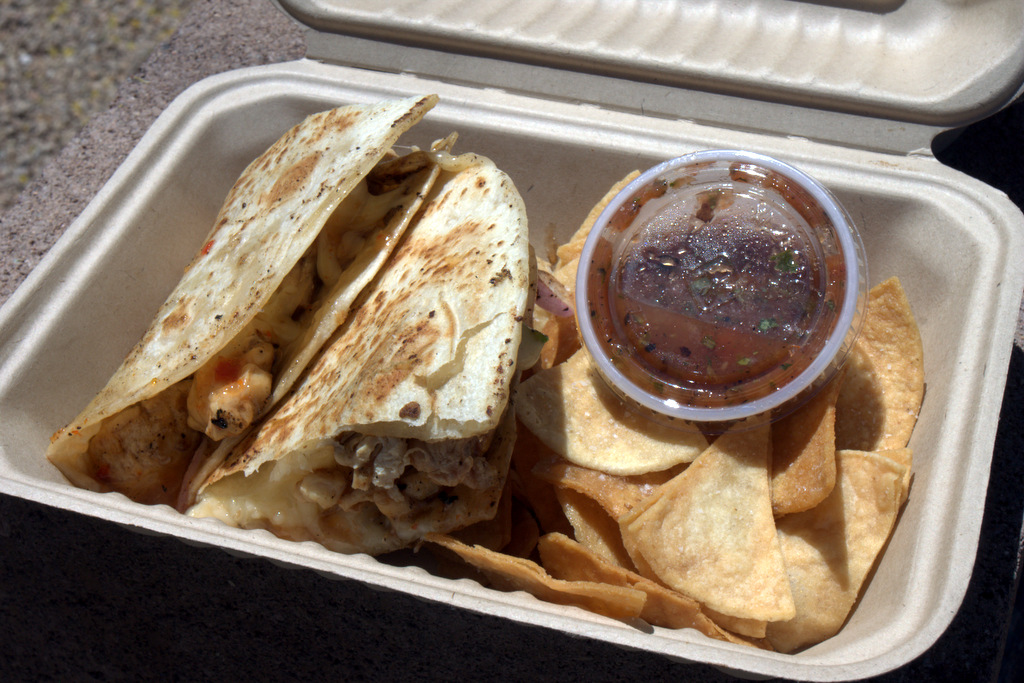 Papa Verde — Roasted Geen Chili's, Potatoes, Pico de Gallo, Jack Cheese. Available with chicken or carne.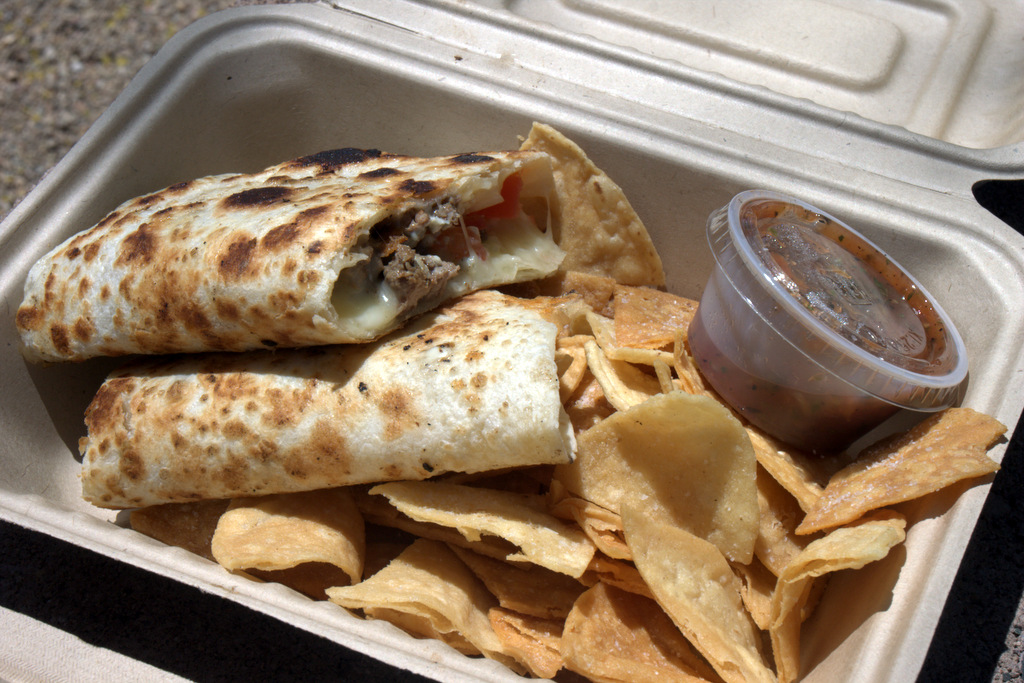 Steak & Blue Quesadilla — Grilled Steak, Jack & Blue Cheese, Pico de Gallo.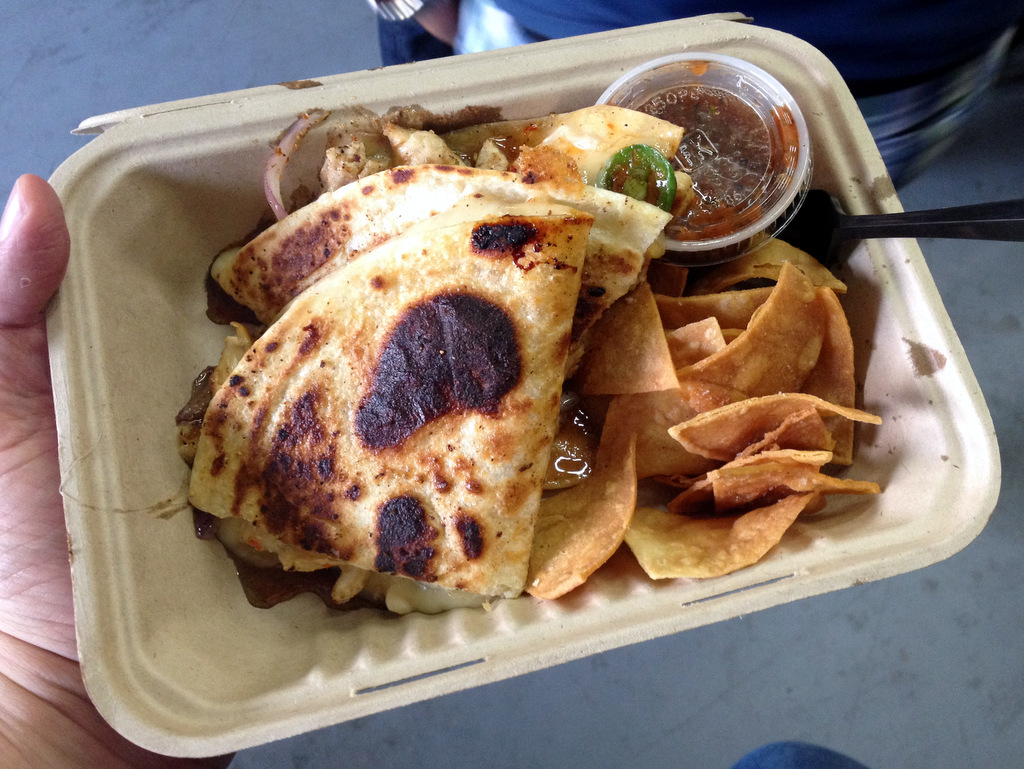 Thai'd Up — Grilled Chicken, Onions, Serenno's, Jack Cheese, Sweet Thai Chili Sauce.
Chock & Spin — Artichokes & Spinach mixed with Cream Cheese, Green Onions & Chili's, Pico de Gallo, and Jack Cheese. You can add steak to this entree as well.
El Rey Quesadilla — Citrus Marinated Chicken, Chorizo, Black Beans, Corn, Pico de Gallo, Jack Cheese.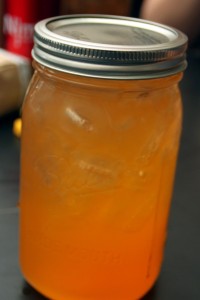 Drinks are sold in reusable 32 oz. mason jars and include flavors like Strawberry Lemonade, Orange Mango, Sweet Honey Vanilla Tea, Green Tea, Pina Coco, Passion Fruit, Lemon Black Tea, Pomegranate Blueberry, Strawberry Haboob, Cranberry Currant, Apple, Cran Lemonade, Luncha Punch, Orange Blossom, and others. If you bring back your jar on subsequent visits, they'll give you $1 off the $4 price for drinks. So far, I've had the orange blossom and the apple flavors. The orange mango was my favorite, and the apple just ended up tasting like standard grocery apple juice.
Check out their Instagram profile to see some recent food photos. To see their current schedule and find where they'll be check out their web site or Twitter profile which has a calendar.