Top Places to See in Arizona
A great list of things to do when you visit Arizona, with places for Phoenix, Tucson, Flagstaff, and many destinations in-between!
Hike in

Oak Creek Canyon

in Sedona

Eat pizza at the famous Pizzeria Bianco
Learn about Native American Indians at the Heard Museum
Lowell Observatory in Flagstaff
Saguaro National Park near Tucson
See birds, animals, and plants of the southwest at Boyce Thompson Arboretum
Take a 4-5 hr drive from Phoenix on the Apache Trail
Visit The Phoenix Zoo
Check out the great art at the Phoenix Art Museum
Be a cowboy and experience the wild west at the Rawhide Wild West Town (in Chandler near Phoenix)
Learn about desert plants at the Desert Botanical Garden (read our guide to the Desert Botanical Garden)
Hike Camelback Mountain in Paradise Valley
Visit Tombstone (wild west town) & Bisbee (turn of the century mining town) where the wild west really happened
Lake Powell (the second largest man made lake in America)
Go sailing on Lake Pleasant (closer to Phoenix)
Lake Havasu (see London Bridge up close)
See the San Xavier del Bac Mission near Tucson (a mission founded in 1692)
Montezuma Castle (a day trip from the valley)
Havasu Falls (at the bottom of the Grand Canyon but worth the hike) or other waterfalls
Pretend you are John Ford filiming in Monument Valley (near four corners)
Speaking of Four Corners, stop and stand on the intersection between Arizona, Utah, New Mexico, and Colorado
Picacho Peak where the only Civil War battle in Arizona was faught (on the way to Tucson you will pass it on the freeway)
Hike in the Chiricahua Mountains (The 10,000 foot mountains are in the southeastern corner of Arizona)
Kartchner Caverns State Park is 2 1/2 miles of amazing underground caves (near Benson, AZ)
Ski Arizona Snowbowl or Sunrise Ski Park
Visit Jerome (old copper town)
Taste espresso at great coffee shops in Arizona
Eat some great food around Phoenix
Cool down at Slide Rock in Sedona (2 hrs north of Phoenix)
Hike Squaw Peak (aka Piestewa Peak) in the Phoenix Mountains Preserve
Ski at Snowbowl (in Flagstaff) or at Sunrise Park Resort (about 4 hrs from Phoenix)
See one of the best preserved meteorite craters on earth (35 miles east of Flagstaff)
Go on a balloon ride
Skydive over Arizona
Tour Frank Lloyd Wright's home in Scottsdale, Taliesin West
Take a hike in Arizona! There are tons of resources online for hikers

Visit one of

hundreds of Arizona Heritage Sites
Visit Scottsdale. The "Best Run City In The World."
See amazing artwork and get shop till you drop in Old Town Scottsdale
Eat ice cream at The Sugar Bowl, Scottsdale's oldest ice cream shops (since 1958!)
Check out the world's first global Musical Instrument Museum (read our guide) in Phoenix (mim.org)
Visit Sunset Crater Volcano National Monument
Explore the past at Walnut Canyon National Monument
Take a relaxing trip to Greer Arizona
See animals from all over the world at the Out of Africa Wildlife Park
View the beautiful and amazing colors and shapes of Antelope Canyon
See the beauty of Canyon de Chelly near the four corners region
Do some climbing, hiking, or bouldering on Mt Lemon in Tucson
Stop off at the experimental town of Arcosanti
The Arizona Sea Life Aquarium has 26,000 square feet of indoor aquarium
The Children's Museum of Phoenix is one of the best in the country
Take a Jeep tour!
Go horseback riding near Saguaro Lake (October though April)
Step back into the wild west at Old Tucson Studios
Tour Payson Rim Country
Taste some great ice cream in Scottsdale
Bullhead City has lots to see
Have lunch at the Wrigly Mansion (reservation required)
Visit the Arizona-Sonora Desert Museum in Tucson
The Pima Air and Space Museum is one of southern Arizona's great gems… see old airplanes (Tucson)!
The Painted desert in Northern Arizona is absolutely beautiful – named for the many colors you can see
The Antelope Canyon is one of the most beautiful things I have seen in my life – a reader
See the Indian Ruins at Walnut Canyon near Flagstaff
Joshua Tree Forest is filled with Joshua Trees (that was obvious!) near Palm Springs
Take a Segway tour of Scottsdale!
Go back in time at the Arizona Renaissance Festival (February through March, each year)
Tour the Capitol and see the museum about the USS Arizona
Mystery Castle at South Mountain (may not be open for tours) which was featured in Life
See petroglyphs in the White Tank Mountains
Sleep in a Wigwam (Holbrook, AZ)
Arizona is serious about golf and has hundreds of beautiful golf courses
Tour the Phoenix Design Museum (limited hours)
See Horseshoe Bend near the Utah border in Page, AZ, an awesome view overlooking the Colorado River near Lake Powell
Check out the Titan Missile Museum, near Tucson and see a intercontinental ballistic missile
See bears and other wildlife at Bearizona near Williams
Go horseback riding in Northern Arizona! There are lots of trails and beautiful scenery to see, and lots of companies to choose from
Stay in a cozy cabin in Arizona (hundreds of cabins all over Arizona!)
Visit some rivers and wetlands areas of Arizona to see wildlife
Visit the Cosanti and ArcoSanti galleries of Paoli Soleri in Paradise Valley – spectacular displays of windbells and sculptures available for purchase
Tour ArcoSanti in the High Desert
See the Museum of Northern Arizona in Flagstaff
Down near the Mexican border you don't want to miss Organ Pipe Cactus National Monument
Visit Globe-Miami, AZ home to a bunch of great restaurants and antique stores on the way to the White Mountains
See historic rail cars and locomotives at the Arizona Railway Museum (closed in summer)
Listen to some live jazz right here in AZ
The Rock Art Center in Deer Valley offers a look at ancient rock art
The Arizona Taco Festival is held every October, and you can try tacos from over 50 vendors
During the holidays (November to January) check out ZooLights for an amazing light display
In October you can pick a pumpkin at numerous farms statewide
Catch the Parada del Sol in February in Old Town Scottsdale
Take a ride on the Verde Canyon Railroad in Northern Arizona
Visit the 2013 Arizona Crawfish Festival in Northern Arizona
Check out the new Butterfly Wonderland in Scottsdale
Take a horseback ride through the desert on South Mountain (south of Phoenix) and get the cookout ride!
Catch a show at the Desert Stages Theater in Scottsdale (currently showing Peter Pan, Driving Miss Daisey, Fiddler on the Roof, and about 7 more)
At 8803 feet, Point Imperial is the highest point on the North Rim of the
Grand Canyon (360 view)
Hike or camp at Mt. Graham (3 hrs east of Tucson) which has an elevation of 10,724 ft
The Phoenix Symphony offers classical music for everybody, and you can see and purchase tickets online
If you are really into hiking, you should hike the seven summits of Phoenix
Take a Brewery Tour in the Phoenix area
The Grand Canyon:
Go to the 

Grand Canyon Skywalk

 (if you dare!)

Visit the Grand Canyon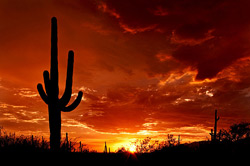 As you can see from the list, Arizona is a mecca for outdoor activities. Despite being known for warm summer temperatures, Arizona visitors can find fun things to do during all seasons.
This list is frequently updated and with almost 100 items, we're working on an update that will organize items by geography — so, you'll be able to see ideas for things to do in Phoenix, for example, without having to see the list of things to do elsewhere in the state. In the meantime, if you have a suggestion or need advice you can contact us. We live in Arizona, so we're familiar with the area! Use the form at the bottom of the page to recommend a destination. We'll also soon have more kinds of activities listed.
Sedona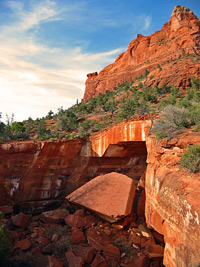 I've been visiting Sedona ever since I was a child (having grown up in Arizona). It has been a favorite destination for my parents and now my wife and I, along with our daughter. To get to Sedona, head north on I-17 and follow the signs. It's fairly easy, and only takes about 2 hours from Phoenix.
If you happen to be on the way to Flagstaff or The Grand Canyon, you can drive through Sedona and continue to Flagstaff. The drive to Flagstaff from Sedona is particularly beautiful, and only takes about 45 minutes! If you are making your way to Flagstaff, or the Grand Canyon and have a little bit of extra time, I suggest taking this route. It's a winding road with sharp curves that offer beautiful views of the Oak Creek valley. Stunning!
Sedona is a respite from the desert heat in the summertime, and a way to see snow and beautiful pine trees year round.
My favorite place to hike in Sedona is the West Fork Trail of Oak Creek Canyon. It is very popular for the following reasons:
Beautiful hiking along a stream (typically only a few inches deep, and easy to cross)
Tall cliffs shade and shelter the canyon
Tall pine, oak, aspen, and apple trees
Mostly level hiking – easy to moderate
Allow 2-3 hours to complete the 6 mile hike (or, go an additional 11 miles)
You can learn a lot more about the trail online, here are a couple of resources for you:
What else can you do in Sedona? Well, there is tremendous shopping in Sedona and you'll find plenty of art galleries, restaurants, and travel companies offering to take you on a Jeep tour of the back country. In fact, the Jeep tour are very exciting, and worth the expense – they'll take you back in the woods, and along creek beds to see the classic red rocks of Sedona. There are a couple of off-road tour companies you can select.
One stop I highly recommend is a visit to Red Rock Crossing State Park. There is a wonderful view of Cathedral Rock and you can view it from a vantage point that includes a stream. It's beautiful!
Another route to Flagstaff is Schnebly Hill Road. This road requires a high-clearance vehicle and some extra time. It affords beautiful views of the Sedona red rock valley. Be sure to fill your gas tank before departing as the road is rocky and over 13 miles long. The road ends at I-17 and you can take that to Flagstaff, or Phoenix.
Best Museums to take the kids to in Phoenix
Some times you just need to cool off indoors — especially when it's 110° outdoors! That's why we've prepared this list museums we thought you might want to visit. Arizona has a wealth of museums, and I'd like to point out the best ones. If you're looking for a list of ideas for things to do with your kids in Phoenix, check out this list.
The Heard Museum – Phoenix
The Musical Instrument Museum – Phoenix
The Phoenix Art Museum – Phoenix
The Phoenix Children's Museum
The Science Museum
The Hall of Flame Firefighters Museum
Taliesin West – Frank Lloyd Wright (more information available at the FLW web site)
Places to see in Tucson
Approximately two-hour's drive south of Phoenix, Tucson offers slightly cooler temperatures as well as excellent restaurants, shops, and museums. Besides a few small towns, and truck stops, there aren't many places to see along the way to Tucson. To get to Tucson, simply head south on I-10, and-you're there after about 2 hours.
There's a few sights on the way in case you are interested such as Picacho Peak, site of the only Civil War battle in Arizona (occurred on April 15, 1862). The park has an interesting event each spring where there is a Civil War re-enactment. It is somewhat popular, with over 200 re-enactors, and hundreds of spectators arriving each year.
The Sonora Desert Museum is one of my favorite stops in Tucson.
Old Tucson Studios is an old and new television cowboy set that you can visit as a tourist. You could call it Arizona's Hollywood as the set has been used in over 300 movies and television shows beginning in the 1930s and continuing today. In 1995 the entire studio burned down in a massive fire (cause unknown, but it could have been arson). The studio was reconstructed to its formal glory over the next decade.
There are some excellent coffee shops in Tucson – one of my favorites is Cartel Coffee Lab on Campbell Avenue and also Stella Java inside St. Mary's Medical Plaza II.
The Pima Air & Space Museum is a must stop if you are interested in seeing old aircraft. They have more than 300 aircraft on-display both indoors, and outdoors. Some of their planes are really quite exceptional, such as the SR-71 Blackbird, and the B-52 bomber.
A quick guide to Arizona: Suggested Arizona Trips for those visiting Arizona!

The Grand Canyon
How long does it take to drive to the Grand Canyon from Phoenix? It'll take you a 5 hours to drive to the Grand Canyon from Phoenix.The hotel up there is $100/night (winter) (a travel agent may know about discounts) but you are right in the park and can get up bright and early and trudge through the snow and see a sunrise. During the summer reservations are required far in advance, but there are not too many people up there during the winter. Check weather conditions before going. There are frequent winter storms at the canyon.
Sedona
The red rocks are splendid. Makes a nice day trip as it is just two hours north of Scottsdale. Lots of shopping and tourists traps. Ice Cream shops and jeep tours. Plenty of hiking through the pine trees and mountains. A natural water slide may be too cold for all but the most hardy!
Flagstaff
Three hours north of Phoenix and in the cool mountain tops with lots of pine trees. Snow during the winter with downhill skiing and cross-country skiing.
Arizona Botanical gardens
A nice place to see all the cacti and desert plants that we have in the Sonoran Desert. The gardens are just 15 minutes away from our home. The park is near McDowell and Galvin Parkway (Priest in Tempe) and you have to watch for the entrance otherwise you'll miss it. The Botanical gardens are near the zoo, take Galvin Parkway farther south and watch for animals.
Hiking
There are a bunch of mountains right around here you can hike if interested. Camelback Mountain is a good challenge but Squaw Peak is less of a hike (it is north of Lincoln Rd and at about 22nd St.). Both offer a great view of the surrounding valley.
Carefree
Home to some shopping areas. To get there, drive north on Scottsdale Road for about 35 minutes into the desert.
Golf & Parks in Scottsdale
There is a lot of golf around here, you can pretty much just find one anywhere around here if you just drive for a little ways.  The Phoenix Open golf tournament is hosted in Scottsdale every January.
Downtown Phoenix
You can always try out the Diamondback baseball stadium or see downtown Phoenix, there are a few museums plus a Victorian house to see.
Glendale
Drive to 57th Avenue, then you are in a very big antique shopping district. The Glendale town square.
Old Town Scottsdale
Lots of little stores selling things for out-of-towners. They've got everything from ice cream which is very important to Mexican hats to Indian jewelry. Dozens and dozens of stores. The area also includes many art stores.  It is in the area of Scottsdale road and Indian School Rd.
Fifth Avenue
On the west side of Scottsdale Rd. just north of Old Town. you can find even more shopping! Good place to find nice Indian Jewelry stores as well as good south western art and other tourist shopping. If we catch you here we will know you are a shopping fanatic and have been to Glendale and Old Scottsdale for shopping already.
The Desert
To see the desert really good, you can drive north on Scottsdale Road until you reach the desert – then keep on driving!
Superstition Mountains and the Lost Dutchman's Gold Mine
Or, for a better desert place, try The Lost Dutchman's Gold Mine — a.k.a. Superstition Mountains that are east of Scottsdale. To get there take a road going south and then go east on University (which is down in Tempe) for a long ways till you reach Apache Junction Rd. Then take a left and turn in where you see the sign for Lost Dutchman's Gold Mine. The better photo opportunities will be at this second place.
For an extended full day trip in a very rugged canyon is to take a nice dirt road. Just continue on the Apache Trail Rd. until you get to Roosevelt Lake. A neat Indian Cliff dwelling is there, also. You could find snow at the other end if it is snowing.