Top Places to See in Arizona
A great list of things to do when you visit Arizona, with places for Phoenix, Tucson, Sedona, Tempe, Scottsdale, Flagstaff, and many destinations in-between!
Tempe
The Arizona Sea Life Aquarium has 26,000 square feet of indoor aquarium
Sedona
Hike in Oak Creek Canyon in Sedona
Cool down at Slide Rock in Sedona (2 hrs north of Phoenix)
Take a Jeep tour!
Globe
Visit Globe-Miami, AZ home to a bunch of great restaurants and antique stores on the way to the White Mountains
Go horseback riding near Saguaro Lake (October though April)
Superior
See birds, animals, and plants of the southwest at Boyce Thompson Arboretum
Apache Junction
Go back in time at the Arizona Renaissance Festival (February through March, each year)
Take a 4-5 hr drive from Phoenix on the Apache Trail
Statewide
Deer Valley
The Rock Art Center in Deer Valley offers a look at ancient rock art
Chandler
Be a cowboy and experience the wild west at the Rawhide Wild West Town (in Chandler near Phoenix)
See historic rail cars and locomotives at the Arizona Railway Museum (closed in summer)
Flagstaff
Northern Arizona
Fountain Hills
Check out one of the worlds tallest fountains (330 ft high) which is one of the top five in the world
Prescott
Stop off at the experimental town of Arcosanti
Payson
Tour Payson Rim Country
Scottsdale
Paradise Valley
Hike Camelback Mountain in Paradise Valley
Visit the Cosanti and ArcoSanti galleries of Paoli Soleri in Paradise Valley – spectacular displays of windbells and sculptures available for purchase
Tucson
Southern Arizona
Phoenix
The Grand Canyon
Go to the 

Grand Canyon Skywalk

 (if you dare!)

Visit the Grand Canyon
At 8803 feet, Point Imperial is the highest point on the North Rim of the
Grand Canyon (360 view)
Havasu Falls (at the bottom of the Grand Canyon but worth the hike) or other waterfalls
River Raft the Colorado River at the Grand Canyon
Waddell
See petroglyphs in the White Tank Mountains on the west side of Phoenix
Page
View the beautiful and amazing colors and shapes of Antelope Canyon in Page, AZ
Lake Havasu City
Lake Havasu (see London Bridge up close)
Camp Verde
See animals from all over the world at the Out of Africa Wildlife Park
Bullhead City
Bullhead City has lots to see and do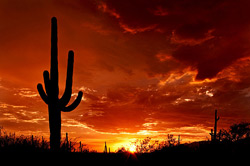 As you can see from the list, Arizona is a mecca for outdoor activities. Despite being known for warm summer temperatures, Arizona visitors can find fun things to do during all seasons.
This list is frequently updated and with over 100 items, we're working on an update that will organize items by geography — so, you'll be able to see ideas for things to do in Phoenix, for example, without having to see the list of things to do elsewhere in the state. In the meantime, if you have a suggestion or need advice you can contact us. We live in Arizona, so we're familiar with the area! Use the form at the bottom of the page to recommend a destination. We'll also soon have more kinds of activities listed.
Sedona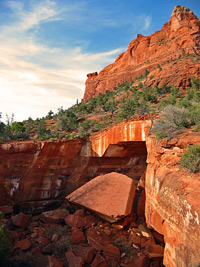 I've been visiting Sedona ever since I was a child (having grown up in Arizona). It has been a favorite destination for my parents and now my wife and I, along with our daughter. To get to Sedona, head north on I-17 and follow the signs. It's fairly easy, and only takes about 2 hours from Phoenix.
If you happen to be on the way to Flagstaff or The Grand Canyon, you can drive through Sedona and continue to Flagstaff. The drive to Flagstaff from Sedona is particularly beautiful, and only takes about 45 minutes! If you are making your way to Flagstaff, or the Grand Canyon and have a little bit of extra time, I suggest taking this route. It's a winding road with sharp curves that offer beautiful views of the Oak Creek valley. Stunning!
Sedona is a respite from the desert heat in the summertime, and a way to see snow and beautiful pine trees year round.
My favorite place to hike in Sedona is the West Fork Trail of Oak Creek Canyon. It is very popular for the following reasons:
Beautiful hiking along a stream (typically only a few inches deep, and easy to cross)
Tall cliffs shade and shelter the canyon
Tall pine, oak, aspen, and apple trees
Mostly level hiking – easy to moderate
Allow 2-3 hours to complete the 6 mile hike (or, go an additional 11 miles)
You can learn a lot more about the trail online, here are a couple of resources for you:
What else can you do in Sedona? Well, there is tremendous shopping in Sedona and you'll find plenty of art galleries, restaurants, and travel companies offering to take you on a Jeep tour of the back country. In fact, the Jeep tour are very exciting, and worth the expense – they'll take you back in the woods, and along creek beds to see the classic red rocks of Sedona. There are a couple of off-road tour companies you can select.
One stop I highly recommend is a visit to Red Rock Crossing State Park. There is a wonderful view of Cathedral Rock and you can view it from a vantage point that includes a stream. It's beautiful!
Another route to Flagstaff is Schnebly Hill Road. This road requires a high-clearance vehicle and some extra time. It affords beautiful views of the Sedona red rock valley. Be sure to fill your gas tank before departing as the road is rocky and over 13 miles long. The road ends at I-17 and you can take that to Flagstaff, or Phoenix.