Top Places to See in Arizona
A great list of things to do when you visit Arizona, with places for Phoenix, Tucson, Flagstaff, and many destinations in-between!
As you can see from the list, Arizona is a mecca for outdoor activities. Despite being known for warm summer temperatures, Arizona visitors can find fun things to do during all seasons.
This list is constantly maintained, and items are added frequently. With almost 100 items, we're working on an update that will organize items by geography — so, you'll be able to see ideas for things to do in Phoenix, for example, without having to see the list of things to do elseware in the state. In the meantime, if you have a suggestion or need advice you can contact us. We live in Arizona, so we're familiar with the area! Use the form at the bottom of the page to recommend a destination.


Visit the Grand Canyon
The Grand Canyon (click to see a photo gallery) is the second most visited destination in America, and with good reason! Continue reading below to find out which National Park receives the most visitors annually.
Grand Canyon Fact:
The average depth of the Grand Canyon is about 1 mile
The chasm is 277 miles in length, and 18 miles wide!
Animals? Yeah! Logs show more than 70 species of mammals, 250 bird species, 17 fish species, 25 types of reptiles and 5 species of amphibians.
The Colorado River averages 100 feet in depth!
The Grand Canyon is considered a natural wonder of the world
Grand Canyon National Park Facts:
Has been a National Park since 1919 and eight years before that, in 1908 was a National Monument
The park covers 1,900 square miles
The Colorado River stretches 277 miles in the park (which is only 190 miles long)
The Colorado River begins at Lees Ferry (considered mile 0) and ends at the Grand Wash Cliffs (mile 277)
There are 5 Indian Tribes that call the park home: The Navajo, Hopi, Havasupai, Paiute, and Hualapai
The park was signed into law by President Woodrow Wilson (in 1919),
President Theodore Roosevelt visited the park in 1903 and proclaimed it 'beyond comparison' (among other things)
President Benjamin Harrison established the Grand Canyon Forest Reserve in 1893
At the South Rim, it's a vertical mile (almost) to the river (about 5,000 feet)
At it's deepest, it is 6,000 feet vertical
The hike from the South Rim is about 7 miles
At Grand Canyon Village, the width of the canyon is 10 miles, and at other places extends up to 18 miles in width
Number of visitors:
4,388,386 (in 2010, and surprisingly not the most popular park in the U.S.A. -- The Smokies gets 9.4 million annually)
The South Rim is open year-round
The North Rim closes during the winter due to heavy snow

Hotels near the Grand Canyon:
During the summer months it may be expensive to stay at hotels close to The Grand Canyon. Therefore, we advise making the 90-minute trek from Flagstaff to the Grand Canyon. You'll probably save 50% on your hotel by doing this. Seriously. In addition, rooms are much easier to get if you haven't made advance-reservations. It may also be worth looking at Airbnb options in Flagastaff. We've done that in the past, and it can be an even better deal.
In the winter, you can stay closer to the park and prices are much lower. I have personally stayed at the Best Western that is just outside of the park (stayed there in 2005 and 2011). It is in a town called Tusayan. I enjoyed my visit both times. They have a really great breakfast buffet (which is complimentary). We've enjoyed their bowling alley and pool tables, as well as their outdoor swimming pool (seasonal). Plus, they happen to have free WiFi that works.
If you're able to book your trip far in advance, you can stay inside the park at lodging just steps from the rim.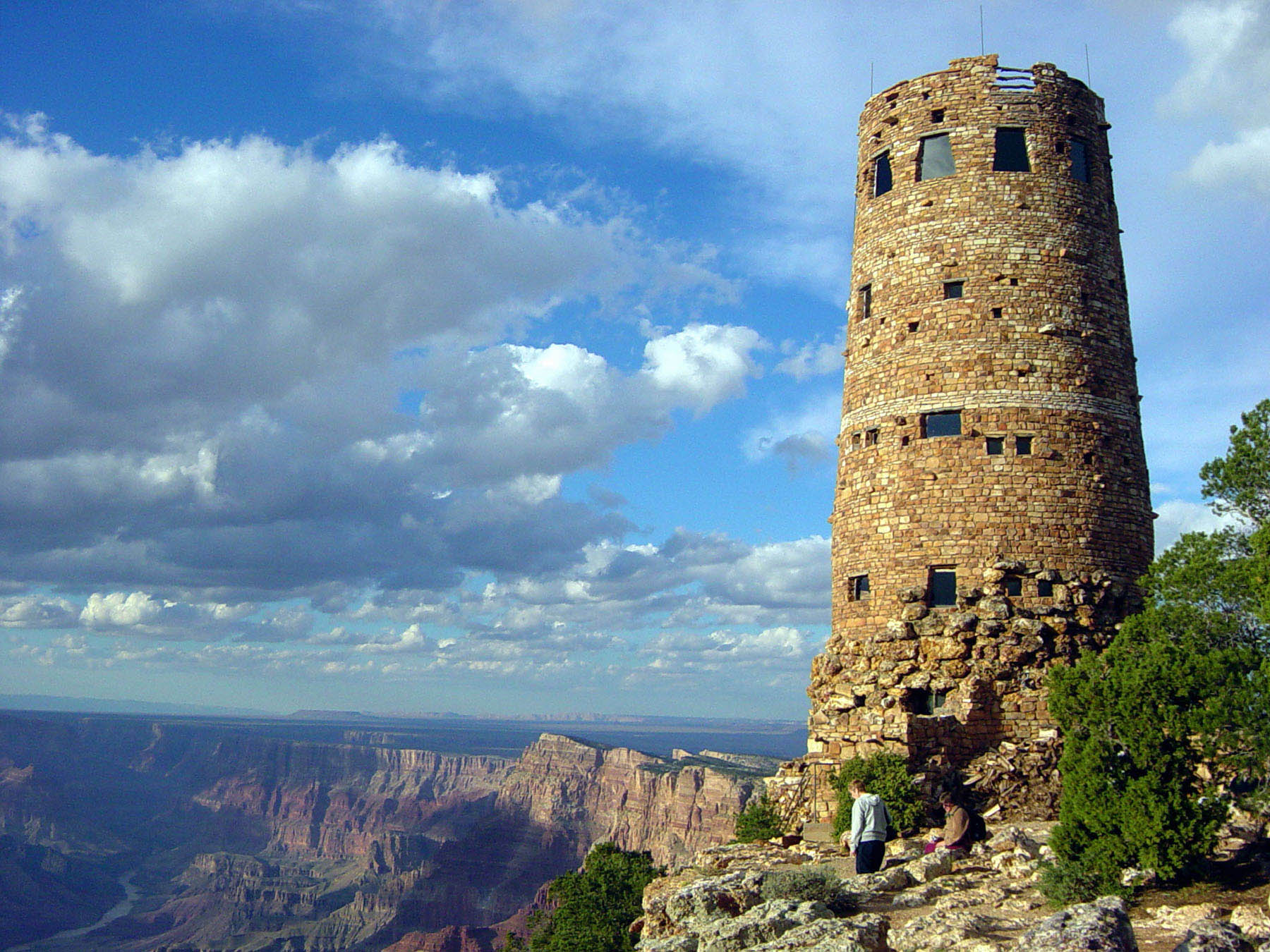 Parking your car at the Grand Canyon:
Also, during the summertime it can be difficult to find parking at the Grand Canyon. They now have a free trolly/bus that takes you in the park, and makes transportation easy.
Hiking The Grand Canyon:
If you are not a hiker, but you want to see what it's like, you can hike down into the canyon about a mile, and then hike back up - you don't have to hike all the way down. Be sure to bring water and light clothing, as it can be warm below the surface of the canyon, even in the winter months.
There are literally dozens and dozens of natural look-out points along the canyon rim. You really can't go wrong, and each offers what feel like a better view than the last. Most visitors go to the southern rim of the canyon because it is closer to Phoenix. But, if you have time, and want to drive further north, you can visit the North Rim which is absolutely beautiful.
Nearby:
If you have extra time: Drive to Utah and see Bryce Canyon and Zion National Monument. Thought you should know that they are in the vicinity.
How long does it take to drive to the North Rim? It takes about 4 ½ to drive to the North Rim, from the South Rim. You can drive yourself, or we advise taking the Transcanyon Shuttle which is a daily shuttle. For more transportation options around the canyon, click here. It should be noted that this trip doesn't hug the rim of the canyon; it is not the best way to see and view the canyon.
South Rim Lunch Options at The Grand Canyon
Let's be fair: you can't expect an affordable meal at The Grand Canyon. There are no fast-food restaurants in the park, and it's miles to the nearest town. So, where should you go? One place we recommend is The Arizona Room which is at the South Rim and offers lunches in the $10-13 range which are actually quite good. On a recent visit, my family ate a huge club sandwich with sweet potato fries (and lots of them), a Arizona Room BBQ Sampler which consisted of ribs, pork, and chicken with French fry's. We also tried the portobello mushroom sandwich and a very tasty pasta. For the five of us, we spent about $60 including tip.
There are other options: For a fancy night out (and I mean fancy), make a reservation long-in-advance to The El Tovar Dining Room.
Some additional dining options are listed on the NPS web site, here (that page also displays seasonal hours).
Best time to visit The Grand Canyon:
Grand Canyon in Winter: Visiting the Grand Canyon in winter months can be a blast! A few years ago, my wife and I took a friend to The Grand Canyon during a February winter storm. There was a massive snowstorm arriving as we entered the park, and we experienced high winds, limited visibility, but had the park all to ourselves. Once we got over the initial chill of the experience, we quite enjoyed ourselves. We had our choice of ample parking opportunities, and got to experience a different side of the park that most people don't see.
We got a reservation at the Best Western just outside of the gate at the park, and stayed one night. The park was virtually vacant (but surprisingly the hotel was quite busy). The winter months can be really exciting to visit the park: Throw snowballs off the edge of the canyon, take photos with snow covered trees, and get a different perspective. But, we also found that visibility was poor because a storm and thick fog were moving in. We were only able to see across to the North Rim once. We still had a blast, and I would totally recommend it! Average January high temperatures for the South Rim are 41° F while the average low is 18° F. It can change dramatically depending on conditions.
Grand Canyon in Spring: April and May are considered off-season, and there are less crowds during these months.
Grand Canyon in Summer: Despite what you've heard, most people do drive into the Park and find a parking space. On our most recent visit in July of 2012 we were able to find a parking spot about half the time, and when we did it was usually a 5 minute walk to the rim. Their are free bus rides throughout the park (usually in 10 minute intervals) during the busy seasons, and if you want, you can easily hop on and avoid the parking hassel. Temperatures are pleasant in the summer on the South Rim, and are typically 50° F to 85° F. If you hike below the rim, expect summer temperatures to exceed 100° F during the day.
Grand Canyon in Fall: Most of the trees around the park are evergreen, such as pinyon pine trees, and juniper woodland, as well as ponderosa pine at the higher elevations (6,500 feet to 8,200 feet). However, in some areas you will see some poplar and trees that show seasonal colors. During September and October, there are typically less crowds and the weather is beautiful.
Driving Times to The Grand Canyon's South Rim:
Flagstaff: 1:32
Las Vegas: 4:27
Phoenix: 3:33
Scottsdale: 3:42
Salt Lake City: 8:58
Denver: 11:24
Sedona
I've been visiting Sedona ever since I was a child (having grown up in Arizona). It has been a favorite destination for my parents and now my wife and I, along with our daughter. To get to Sedona, head north on I-17 and follow the signs. It's fairly easy, and only takes about 2 hours from Phoenix.
If you happen to be on the way to Flagstaff or The Grand Canyon, you can drive through Sedona and continue to Flagstaff. The drive to Flagstaff from Sedona is particularly beautiful, and only takes about 45 minutes! If you are making your way to Flagstaff, or the Grand Canyon and have a little bit of extra time, I suggest taking this route. It's a winding road with sharp curves that offer beautiful views of the Oak Creek valley. Stunning!
Sedona is a respite from the desert heat in the summertime, and a way to see snow and beautiful pine trees year round.
My favorite place to hike in Sedona is the West Fork Trail of Oak Creek Canyon. It is very popular for the following reasons:
Beautiful hiking along a stream (typically only a few inches deep, and easy to cross)
Tall cliffs shade and shelter the canyon
Tall pine, oak, aspen, and apple trees
Mostly level hiking - easy to moderate
Allow 2-3 hours to complete the 6 mile hike (or, go an additional 11 miles)
You can learn a lot more about the trail online, here are a couple of resources for you:
What else can you do in Sedona? Well, there is tremendous shopping in Sedona and you'll find plenty of art galleries, restaurants, and travel companies offering to take you on a Jeep tour of the back country. In fact, the Jeep tour are very exciting, and worth the expense - they'll take you back in the woods, and along creek beds to see the classic red rocks of Sedona. There are a couple of off-road tour companies you can select.
One stop I highly recommend is a visit to Red Rock Crossing State Park. There is a wonderful view of Cathedral Rock and you can view it from a vantage point that includes a stream. It's beautiful!
Another route to Flagstaff is Schnebly Hill Road. This road requires a high-clearance vehicle and some extra time. It affords beautiful views of the Sedona red rock valley. Be sure to fill your gas tank before departing as the road is rocky and over 13 miles long. The road ends at I-17 and you can take that to Flagstaff, or Phoenix.
Best Museums to take the kids to in Phoenix
Some times you just need to cool off indoors — especially when it's 110° outdoors! That's why we've prepared this list museums we thought you might want to visit. Arizona has a wealth of museums, and I'd like to point out the best ones. If you're looking for a list of ideas for things to do with your kids in Phoenix, check out this list.
The Heard Museum - Phoenix
The Musical Instrument Museum - Phoenix
The Phoenix Art Museum - Phoenix
The Phoenix Children's Museum
The Science Museum
The Hall of Flame Firefighters Museum
Taliesin West - Frank Lloyd Wright (More information available at the FLW web site).
Places to see in Tucson

Approximately two-hour's drive south of Phoenix, Tucson offers slightly cooler temperatures as well as excellent restaurants, shops, and museums. Besides a few small towns, and truck stops, there aren't many places to see along the way to Tucson. To get to Tucson, simply head south on I-10, and-you're there after about 2 hours.
There's a few sights on the way in case you are interested such as Picacho Peak, site of the only Civil War battle in Arizona (occurred on April 15, 1862). The park has an interesting event each spring where there is a Civil War re-enactment. It is somewhat popular, with over 200 re-enactors, and hundreds of spectators arriving each year.
The Sonora Desert Museum is one of my favorite stops in Tucson.
Old Tucson Studios is an old and new television cowboy set that you can visit as a tourist. You could call it Arizona's Hollywood as the set has been used in over 300 movies and television shows beginning in the 1930s and continuing today. In 1995 the entire studio burned down in a massive fire (cause unknown, but it could have been arson). The studio was reconstructed to its formal glory over the next decade.
There are some excellent coffee shops in Tucson - one of my favorites is Cartel Coffee Lab on Campbell Avenue and also Stella Java inside St. Mary's Medical Plaza II.
The Pima Air & Space Museum is a must stop if you are interested in seeing old aircraft. They have more than 300 aircraft on-display both indoors, and outdoors. Some of their planes are really quite exceptional, such as the SR-71 Blackbird, and the B-52 bomber.
A quick guide to Arizona: Suggested Arizona Trips for those visiting Arizona!

The Grand Canyon
It'll take you a good 5 hour drive to get up there from Phoenix.
The hotel up there is $100/night (a travel agent may know about discounts) but you are right in the park and can get up bright and early and trudge through the snow and see a sunrise. During the summer reservations are required far in advance, but there are not too many people up there during the winter. Check weather conditions before going.
Sedona
The red rocks are splendid. Makes a nice day trip as it is just two hours north of Scottsdale. Lots of shopping and tourists traps. Ice Cream shops and jeep tours. Plenty of hiking through the pine trees and mountains. A natural water slide may be too cold for all but the most hardy!
Flagstaff
Three hours north of Phoenix and in the cool mountain tops with lots of pine trees. Snow during the winter with downhill skiing and cross-country skiing.
Arizona Botanical gardens
A nice place to see all the cacti and desert plants that we have in the Sonoran Desert. The gardens are just 15 minutes away from our home. The park is near McDowell and Galvin Parkway (Priest in Tempe) and you have to watch for the entrance otherwise you'll miss it. The Botanical gardens are near the zoo, take Galvin Parkway farther south and watch for animals.
Hiking
There are a bunch of mountains right around here you can hike if interested. Camelback Mountain is a good challenge but Squaw Peak is less of a hike (it is north of Lincoln Rd and at about 22nd St.). Both offer a great view of the surrounding valley.
Carefree
Home to some shopping areas. To get there, drive north on Scottsdale Road for about 35 minutes into the desert.
Golf & Parks
There is a lot of golf around here, you can pretty much just find one anywhere around here if you just drive for a little ways.  The Phoenix Open golf tournament begins January 25th.  It is held just east of Scottsdale Road halfway to Rawhide - look for all the parked cars. Some good parks with grass can be found around the area.
Downtown Phoenix
You can always try out the Diamondback baseball stadium or see downtown Phoenix, there are a few museums plus a Victorian house to see.
Glendale
Drive to 57th Avenue, then you are in a very big antique shopping district. The Glendale town square.
Old Town Scottsdale
Lots of little stores selling things for out-of-towners. They've got everything from ice cream which is very important to Mexican hats to Indian jewelry. Dozens and dozens of stores. The area also includes many art stores.  It is in the area of Scottsdale road and Indian School Rd.
Fifth Avenue
On the west side of Scottsdale Rd. just north of Old Town. you can find even more shopping! Good place to find nice Indian Jewelry stores as well as good south western art and other tourist shopping. If we catch you here we will know you are a shopping fanatic and have been to Glendale and Old Scottsdale for shopping already.
The Desert
To see the desert really good, you can drive north on Scottsdale Road until you reach the desert - then keep on driving!
Superstition Mountains and the Lost Dutchman's Gold Mine
Or, for a better desert place, try The Lost Dutchman's Gold Mine -- a.k.a. Superstition Mountains that are east of Scottsdale. To get there take a road going south and then go east on University (which is down in Tempe) for a long ways till you reach Apache Junction Rd. Then take a left and turn in where you see the sign for Lost Dutchman's Gold Mine. The better photo opportunities will be at this second place.
For an extended full day trip in a very rugged canyon is to take a nice dirt road. Just continue on the Apache Trail Rd. until you get to Roosevelt Lake. A neat Indian Cliff dwelling is there, also. You could find snow at the other end if it is snowing.
A video about Arizona
Hiking The Grand Canyon
Make a suggestion for this list:
Copyright © 2013. All Rights Reserved. Our Privacy Policy