The following article was contributed by a good friend and long-time client, Jonathan Clark. Incidentally, he also passed away yesterday, so I am publishing this in his memory. Jonathan lived in Phoenix and was a long-time resident of Arizona.
January 24: 24-Hour Fitness, Phoenix
I must confess:  I do not subscribe to Phoenix Magazine (at least I didn't).  But someone was kind enough to leave the January 2010 issue in the reading rack.  I am well aware of the food section, and an article about the Best 21 Sandwiches in the Valley got my attention right away.
I originally decided I would help myself just to those pages.  But when I finished on the bike, I rescued the entire issue.  When I got home, I found the article online and sent the link to my friend Pam.  "How about trying out all 21 sandwiches in this article?"  Pam's response was immediate: "I would kill for most of those sandwiches." Since I frequently go to the movies with Pam and her husband Fred, it would seem we have ample opportunity to begin the Grand Tour.  So a couple days later, we decided to do it, and after discussion, chose Bertha's Café as our first stop.
Here we go!
January 29: Bertha's Café, Phoenix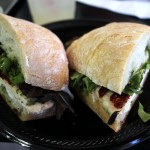 A perfect lunch spot en route to the newest flick at Camelview, located in a nondescript strip mall at the northwest corner of 32nd St. and Indian School.
Plenty of people already know about this place, evidenced by the crowd, the banter, and the "the usual?" questions from behind the counter.  My companions and I are able to score a table outdoors on a cool but sunny afternoon.
Diligent to the recommendations, I go for a half Salami, Pesto and Goat Cheese sandwich, with the accompanying Thai chicken salad.  The flavors are all spectacular together, and I quickly wish I had ordered a full sandwich.  The combo also comes with a small cookie baked in-house, and they are tasty enough we end up taking several to the movie afterwards.
The "spicy peanut dressing" for the salad is marvelous!  And the spice element is there, for sure.  Each bite of the salad left that sweet and burning aftertaste.
I am off to a good start.  I begin scoping out my next conquest.
January 31: America's Taco Shop, Phoenix
Located in one of those cute-as-a-button bungalows on Seventh Street between McDowell and Thomas, this place got the call on Sunday after church.  America Corrales, the owner (and the namesake of the restaurant, which isn't, as it might appear, named patriotically), has a great thing going here.
I have already decided I can't wait just for times I am out with Fred and Pam to sample these sandwiches.  That would take too long.  I figure I am good for two or three a week, meaning I could be through the list in two months or so.  So off I go alone.
A sunny afternoon made dining in the front porch area a must.  There was a good line of people queued up at the counter, and people came and went all the time I was there.
The Carne Asada Torta is the real deal!  It's moist and tasty, and the chopped carne asada practically melts in your mouth.  It comes with a tomato-ey salsa that wasn't bad (and was hardly necessary), but didn't appear to be the same as was being served with the chips and salsa orders, and definitely not the chile powder sauce accompanying America's corn.
The corn could be a meal in itself!  The white cheese on the corn, and the fiery chile powder sauce, made for a spectacular appetizer.  Another two of those and I wouldn't need a sandwich.  But then I would have missed out.
I will return to America's.  It's too close to where I function, and there were too many other things on the menu I wanted to try.  That includes the carne asada burrito; and I'm sure the ceviche is to die for, should I make it on Friday or Saturday, the only days it's available.  And then there's that corn…
But I may not go back until I have consumed many more sandwiches around town.
Two down, 19 to go.
February 2: Tortas el Güero, Phoenix
This is the first disappointment of the trek, and I want to return to give it another try.  First, one of the three locations listed in the January magazine is on Thomas Rd. at 41st St., but alas, it has closed.  (Naturally, this is the one I tried to visit.)  So I end up at the 16th Street location.
This is the only place that isn't very full.  It's also nearly 2:30 by the time I arrive, so I'm willing to cut Tortas el Guero some slack, and return during a busier time.  Best I can figure, it's Gustavo taking my order and making my torta, and Marjorie (and infant son) sweeping things up in the restaurant.
The Cochinita, the recommended sandwich (and the Esquire-hyped one, too), turns out to be a disappointment.  The pork and bread are fine, as described in the article.  I taste the "kissed by mayonnaise and butter" part, and the lettuce is easy to find.  But the other ingredients are not there.  No "loaded up" with avocado (maybe it was part of the spread, but it wasn't obvious).  No sliced tomatoes, even though the magazine photo clearly shows them.  No pickled jalapeños.  And not much atmosphere.
It's a good sandwich, but certainly not what I had expected.  I will return for a second time (maybe nearer lunch hour) to see if things get any better; if the promised ingredients are missing, I will ask for them this time around, too.
February 5: Cornish Pasty Co., Mesa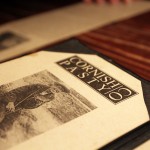 I want to go back and try everything else on the menu!  Tucked away in the back of a strip mall at Dobson and Guadalupe, Cornish Pasty has its fans who managed to find it today in spite of the construction project at the entrance to the parking lot just in front of the restaurant.
People sit at long tables (in church pews) made up of doors with glass on top.  Many tables seat 8-10, so smaller groups pair off at different ends.  The restaurant also has a line of stools where people can eat and watch food being prepared at the same time.
I haven't had a PB&J for years, but that's the item that drew us to the place, so in goes the order.  My  companion opts for the asiago chicken with hatch chiles, a pasty big enough by itself to serve two.  Did I mention it was also delicious?
This is lunch, so I order the PB&J Pasty without the whipped cream.  The pasty's filling also includes bananas, and it's a pure comfort food taste.  I'm not that much of a fan of peanut butter and jelly, so I probably wouldn't order it again.  But I would visit again, for sure!
Four down, 17 to go.  Three winners so far.
February 12: Petite Maison, Scottsdale
A perfect sunny afternoon makes for a perfect time to sit outdoors in the garden at Petite.  The menu is new and different every day, but I'm there for the Croque Madame.  It's not on the menu today, but the Croque Monsieur is, and I know all it takes is the egg on top and we're good to go.
Phoenix Magazine has all the right digits for Petite Maison's street address, but the final three are jumbled (only the "7" is right).  Fortunately, Shoeman Lane isn't that long, and the restaurant was easy to find once I turned east off Scottsdale Road.
This is my first foray into Sandwich Land since I had a wisdom tooth extracted two days ago.  I'm supposed to stay away from a lot of food that isn't soft, and I'm already getting skilled at keeping what I'm chewing over in the left side of the mouth.  After a four-day trip to Chicago and the extraction, I'm eager to get back into the game.
My companions and I kick things off with a butt-kicking French onion soup…the real deal.  The sandwich arrives on the croissant, and the ham is thin sliced and moist, the Gruyere nicely covering things, and the egg crowing the achievement.  The shoestring fries are fabulous with the house dip of whole-grain mustard, malt vinegar, molasses and aioli.  Accompanied by a pinot grigio, it's a great day.
We could have stayed much longer, but we had a movie planned over at Camelview.  This is a wonderful place to return to.
February 13: The Deli, Queen Creek
Are we there yet?  This is an easy question to ask when making the trek out to Queen Creek (if I have ever been here before, I don't remember it) to a place called The Deli to eat the Warm Roast Beef sandwich in the article.  It's a good 40 miles from downtown, involving numerous right angle turns once you leave the 202.
But this outpost in the boondocks is worth the trip!  A Saturday visit produced a wait for an available table.  My companion and I decided to share the sandwich and ordered a bowl of a great garlic tomato bisque soup, as well.  Everything came at once, and the sandwich is definity as advertised: tender roast beef, juice dripping off the roll, with just the right amount of horseradish sauce to give the flavor without overwhelming the ingredients (something I would have done if left to put it on myself, I'm afraid).
Our waiter, it turns out, lives in Tempe and takes classes in downtown Phoenix.  He says it "only"takes him 45 minutes to get to work; fortunately, he drives a four-cylinder car ("Do you only have to fill up every other day?" I ask sarcastically.)  Next I wonder if he couldn't find a place closer to where he lives or works.  "My sister works here," he said.  "She told me they needed another server, and the place is always busy, so it works out."
The soup is a nice complement.  I have never had a soup with chopped celery on top, along with chives.  I'm not a celery fan, but it works well with the soup.
Save room for the homemade ice cream, a specialty of The Deli.  At only $2 per scoop, it's possible to try several of their fascinating flavors, and sharing is again a good thing.  The words listed under "vanilla" didn't sound like ice cream flavors, so I asked to confirm.  Yes, they do indeed have a lavender honey (a wonderful sweet taste) and a brandy, brown sugar and candied pecans flavor, as well.  They went so well we topped it off with red chile honey ice cream.  It's sweet when it hits the mouth, and then leaves a tingling aftertaste.  It was great!
Six down, 15 to go.  Five winners.
February 14: Switch, Phoenix       
I had never heard of this place.  I drive Central all the time and had no idea it was there.  But today, by golly, there it was; sandwiched (ahem) between the Schlotzsky's on the corner of Central and Virginia; and Durant's, a local institution since some time in the Middle Ages.
Like Durants, people in the know enter from the back, although there's no kitchen to walk through—just a shaded patio with occupied tables on both sides.  Inside, it's dark and trendy, with lots of Beautiful People enjoying Sunday brunch.  But no eggs for me today: I'm on the  hunt for the Murano as described in the magazine.
This is my least-favorite sandwich off the seven I have tried thus far, and I blame at least some of it on personal taste.  I'm not a big fan of olives, and the Murano has an entire layer of them at the bottom of the sandwich.  Nor is mayonnaise my condiment of choice.  On the other hand, I would be fine with horseradish or horseradish sauce in abundance, chipotle, or jalapeños (either raw or pickled).  Come to think of it, I'm not a Tabasco fan, either.  But I digress, since the Murano has no Tabasco.
I take exception—again, for the first time, to the description of the sandwich.  Yes, it contains "mild" roasted chicken and "salty" prosciutto.  But it's not "just the right proportion":  there's so much chicken it pretty much reduces the rest of the ingredients to cameo roles.  Except for the olives, which are impossible to ignore.  For the first time, I let sandwich ingredients (guess which ones) drop to the plate, and I don't pick them up.
The Gouda cheese is just too weak to compete against the chicken or olives.  I finally located a thin slice right next to the similarly-colored-and-textured chicken.
I mentioned I don't care that much for mayonnaise.  Technically, the sandwich has an aioli on it.  But the resemblance to mayonnaise is too obvious, and once again, the taste is too mild.  Except for the olives…did I mention them?
The sandwich came with a side of Caesar salad.  The dressing seemed more ranch-like than Caesar-like.
As I was looking at page 97 from the magazine, the only one I took into Switch with me, I was reading about the Stockyards' Prime Rib & Cheddar sandwich, in which one line reads, "Greater than the sum of its parts…"  In the case of the Murano, the parts add up to more than the whole.  The finished sandwich loses to its most prevalent ingredients.  I would not order it again.
One-third of the way through: five keepers, one undecided, one not.
February 15: Stockyards Restaurant, Phoenix
Yummy!  Yummy!  A life of the Stockyards' Prime Rib and Cheddar sandwich sounds like a great way to go for me.
What's more American than that?  I decide this is the perfect place (and item) to try on Presidents' Day, to a restaurant I first visited in 1970.  Unlike Switch (in many ways; more to follow), I have always known about The Stockyards.
I must say this:  elegant traditional kicks butt over hip and trendy ANY day!
The sandwich is delicious, and I'm pleased to find the juice and the horseradish sauce on the side.  I eat fully half the sandwich without the condiments, savoring the tender slices of beef and hearty cheese.  The rye makes for a perfect accompaniment.
I love horseradish (see my story about Switch, below), but I can honestly say this sandwich didn't need a thing.  Toward the end of the second half I went to dippin' in the juice (I know enough French not to call it "au jus") and the horseradish.  Besides, the horseradish sauce made a great accompaniment to the fries that came with the meal.
That's eight down, and 13 to go.  I wonder where I'll go next?
February 16: Pane Bianco, Phoenix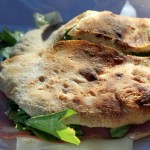 If there's anything more refreshing than Pane Bianco's simple yet elegant Tomato, Basil and Mozzarella sandwich, I don't know what it would be.
Chris Bianco's bread place requires some coordination: of a limited (Tuesday-Saturday, 11 a.m.-3 p.m.) calendar and those annoying U-turns on Central to get around the light rail tracks.  The place only does carry-out, but if the weather is nice, the outdoor tables shared with Lux next door work just fine.
In ordering the sandwich, I was able to see later sandwich breads baking in the open fire oven behind me.  I'm sure my sandwich (a nice bread roll) was in that same oven just minutes before I received it.
The ingredients are all first class, and even the wrapping says, "elegant."  The taste is one to which I could return almost every (or any) day, and on some level I convinced myself this wasn't the most caloric item I have tasted in my odyssey, either.
Concluding the understated elegance is the wrapped chocolate (local, I assume—from Cerretas, maybe?) that serves as a perfect finish to a perfect sandwich.  Bravo!
February 18: Cibo, Phoenix
Almost as an aside, Phoenix Magazine threw in a #21 sandwich, what they called a "Bonus Pick."  They needn't have apologized, as the Vegetariano Saltimbocca lacks nothing.
I'm amazed by how much good bread can impact the lowly sandwich.  As an early Baby Boomer growing up the 50s with Wonder Bread ("If it's a good bread, it's a wonder"), I had no idea the real thing could be so good.  I also recall the horror story a kid in one bread commercial was telling his friends, "And the wicked witch made the children eat Whole Wheat Bread!"  "EEEEEEWWWW!!!"
This is to say, the bread in the Cibo sandwiches is again primo.  Light and crusty (I even remember moms who would remove the crust from a sandwich, as if the crust were something terrible), just enough warmth (I got the sandwich warm: it's available either way), and making every ingredient taste even better.
So many of these places have wonderful outdoor dining areas, and with the mid-February weather we're enjoying the Valley, it makes for even better experiences and better eating.  I could get used to this!
All the veggies work great in this sandwich: the zucchini, the red peppers, the eggplant.  And just the right amount of gooey mozzarella makes this a tasting home run.  The article mentions the house salad, one of several sides that come with the sandwich.  It's a fabulous simple and tasty combination, with the shaved Parmigiano a special surprise.  My shavings are so big I pick them up and nibble on them while I'm eating.
I have now eaten 10 of the magazine's list of 21 sandwiches.  I would be getting sad that I'm already halfway through, but why should I be?  I can enjoy these delights again and again.  And I will.
Eleven to go…I have eaten 10, and eight of them have been to die for!
February 19: Lee's Sandwiches, Chandler
The first "chain" place I have visited, Lee's is surprisingly large and open, occupying two to three times the space of a typical walk-in sandwich shop.
The BBQ Pork sandwich is my quarry at this Asian-oriented restaurant.  It's simple and it's inexpensive ($2.85).  It's also, not to my surprise, tasty.  The pork lines the fold in the baguette, and the other listed ingredients go on top.  The raw jalapeños are pretty mild, which disappoints me; the cilantro does a good job of making up for it.
This place is quite an operation, busy and active.  There's zero atmosphere or ambience, but they move a lot of people through here with the extensive sandwich menu.  We also ordered some egg rolls, which didn't really add anything to the culinary experience.  The intersection of Warner and Dobson is obviously a draw for the East Valley's Asian market, with a full grocery store and a couple other restaurants on various corners.
The baguette is a nice contrast to the other breads I have tasted recently.  It's hard to do it wrong, I would think, but it was fresh and light.  I'm a happy guy.  And did I mention I'm now more than halfway?  Eleven in the stomach, ten on the menu.  At least nine winners.
February 25: House of Tricks, Tempe
An extended time out of town has put the Great Sandwich Adventure on hold, but it resumed today under a gorgeous 70-degree sunny sky under the trees in old Tempe, with the simply-named Reuben getting the call.
I told the waiter about my quest, and I'm pretty sure the manager (owner?) delivered my sandwich.  "Have you tried this before?" "No."  "You're going to love this!"  Then he told me I was perhaps the fourth or fifth person who had specifically mentioned trying all 21 sandwiches.  I told him today was #12, putting me well past the halfway mark.
Actually, I tried to snag this one for my list last night.  I met friends to attend a concert at Arizona State University, just a couple blocks away, and this was the meeting place.  But the sandwich is absent from the dinner menu, and when today started out as lovely as it did, it didn't take much work to convince myself to return.
To me, this was a perfectly-made Reuben.  I loved the Gruyere cheese with the corned beef.  And the sauerkraut and Russian dressing were there, and easy to taste, but not at all overwhelming.  The most costly ingredients make up the huge majority of this sandwich.  I ate it all, with dressing and pieces of corned beef dropping out of the back of my sandwich.  Then I used my fingers to pick them up, and licked off my fingers to finish.
The Reuben comes with the excellent chive potato salad.  I'm not a mayonnaise or celery fan, but this was such a tasty side dish it didn't bother me in the least.  And I detected some small pieces of meat (bacon?  ham? corned beef?) in the mix as well.
Another winner!
March 2: Jaspers Peak, Scottsdale
It's a long way to Grayhawk, but when the lure is the Bacon Wrapped Parmesan Meatloaf  sandwich at Jaspers Peak, it is well worth the trip.
We arrived at noon on a quiet day at the restaurant, and my marketing consultant friend Hamilton Wallace joined me for the first sandwich in what he hopes will be his grand tour of the 21 best in Phoenix.  He's off to a good start, and we hit (of course) another winner.
The article said only daredevils attempt to eat this sandwich with their hands, instead of with knife and fork.  Well, duh.  A sandwich is supposed to be picked up and eaten.  Although I suppose those open face roast beef with gravy sandwiches of a bygone era would have been nigh unto impossible.  Nevertheless, we cut our monsters in half, grabbed the halfs with both hands, and into the gullets they went.
The meat loaf is moist and flavorful, and the cheddar cheese added a great taste.  Of course we smeared the caramelized onions all over before closing the sandwich.  The greens in the sandwich (maybe spinach?) with light dressing were a nice touch, and I even found a caper in mine.
The sides were mixed.  My beer-battered-mixed-with-sweet-potato fries were uninspired.  Hamilton's gumbo had a red beans and rice feel to it.
But the sandwich itself?  A winner, of course!
March 3: Return to Tortas el Güero, Phoenix
"Would you like everything on that?"   This single question, one I didn't hear a month ago when I first tried the Cochinita, was the one I needed to hear then.  Without it, the tomatoes, avocados and jalapeños apparently don't go into the sandwich.
Even after I enthusiastically agreed, the cashier asked one more time, "Even the jalapeños?"  Sheesh.  Do I look like a weak-stomached gringo who has never eaten anything hot before?  I live for that stuff.  Torture me.  Make me perspire.  Flush out all the red in my face.  But make it hot, darn it.
So the Cochinita passed the test the second time around.  Thirteen down, with 12 great ones.  Now, that's a lot more like it!
March 6: TEXAZ Grill, Phoenix
Recommended steps for consuming the Chicken Fried Steak  sandwich at TEXAZ.  1.  Schedule coronary bypass; 2. Eat the sandwich; 3. Go to the hospital.
This is a rather dark and gloomy place inside, and it appears someone did some major sign-stealing in the Big Bend region of West Texas.  I order my sandwich while talking on the phone, and it arrives without the side of gravy.  Not to worry…I order and it shows up quickly.
The sesame seed bun (soft and fresh) does its best to hold the two slabs of chicken fried steak between its ends.  The first decision to make is, do I go for the two-handed grab, or do I reach for the serrated steak knife?  The two hands win out, and I'm thankful for a thick linen napkin that gets a working over as I consume.
I begin by pouring some of my gravy on top of the pile of steaks.  Later, when I am not charged for the gravy on the bill, I learn this wasn't the "side" order, but just some gravy "on request" and for no additional charge.  I blanch to think about the size of the side order, and if I would still be swimming in cream gravy as I write an hour later.
Early into the sandwich, I notice the nice sliced tomato, a thick white onion slice, and a pickle on the side.  What the heck, I think.  I open up the sandwich and pop them in.  They go great with everything!  I go back to read the description, and realize I am definitely NOT doing it right.  The article instructs us to Glop, Pepper, and Sprinkle.  And I KNOW I have never used those action verbs in sequence before.
So I go back, open up the sandwich again (yes, things do fall out), and Glop the remainder of my ample supply of cream gravy onto the chicken fried steak.  Then I have to put the sandwich down (in two parts) to Pepper (heavily, from a pepper mill requiring both hands) and Sprinkle (a few drops of Tabasco sauce, something whose taste I do not care for).  So I Sprinkle over part of the sandwich, leaving the back end (for when I finish) without Tabasco, a decision I am happy I made.
The sandwich comes with cool Texas fried potatoes, huge chunks of potato that taste awfully good even with catsup (this could have been where I used some of the larger "side" order of gravy, I suppose).
The verdict:  Delicious.  Now, how do I get to the hospital?
March 7: Bomberos Café and Wine Bar, Phoenix
This came close to being a great disappointment, but turned out the other way.  I fought the rain all the way up North Central after church, in quest of the Atún Escabechado tuna sandwich.  According to my information about this restaurant, they were open on Sundays until 3 p.m. only, and served the complete menu at all times.
As I dried myself off and took my first look at the menu, it was obviously brunch-oriented.  I checked the panino sandwiches on the back side and found three, but no Atun Escabechado.  I asked my server about this and she apologized, but said it was the brunch menu only until 3 p.m.  "I thought you were only open until 3," I responded.  "We were, but we changed a couple of weeks ago and now are open until midnight, but not serving that sandwich until after 3 p.m."
I told her I had made the long drive solely for that sandwich (showing her the article), and would have to leave.  She made a quick visit to the kitchen, and emerged with the good news:  they would make one for me, anyway.  The article said to pair the sandwich with the South American wines this restaurant features. I told her to make the decision herself.
The sandwich arrived on a small plank, stuffed with a tuna-onions-and-capers combination.  This is the first time I have ever traveled to eat a tuna sandwich, by the way.  It's just not high on my list of faves.  But this was all it had been described to be:  moist and warm and delicious, with the other ingredients adding zest to the mild meat than anchored the mixture.  A warm crunchy bread was a perfect accompaniment.  Small flecks of tuna and capers fell out of the sandwich and landed on the table.  That's OK… I picked everything up and it all ended where it was supposed to be.
When the wine arrived, it turned out to be the owner's selection.  A great Argentine white: Crios de Susana Balbo Torrontes.  It was perfect.  By the time I left, I felt I had made some new friends and, who knows?  I might even return some day to try something else from the menu.
Fifteen down, six remaining.
March 8: Avalon, Scottsdale
I have recruited another sojourner on the path of good food with bread!  I meet my new companion at this trendy Scottsdale restaurant and bar (in anything BUT a trendy place, the south side of McDowell between Scottsdale Rd. and Hayden).  We fret about making reservations, but decide if we arrive before noon, it may not be a problem.
NOT a problem!  I can't decide if the place is even open, but it is, and once we showed up on the hostess's radar, she found a booth for us to sit (we are either the first or second people for lunch; we ask if this is normal, and it seems to be).
The next dilemma is the Flat Iron Steak sandwich does not appear to be on the menu.  Well, we are on a new menu and we change it, says our brand-new (second day) server.  There are a few moments of panic, and we're already considering what Plan B might entail on the Sandwich Trail.  But a more experienced employee tells us the "steak sandwich" IS the flat iron, and from the description, it appears to be.
Sadly, this is not a sandwich to which I would return.  We both order our steaks medium rare (and at $13 for a lunch entrée, it should have been much better than it was).  Mine is pretty tough and gristly.  The vegetable mixture of onions, mushroom and herbs in olive oil and brandy are tasty enough.  The liquid from the mixture and the steak turns the single, struggling slice of ciabatta into a pulpy mass.
And the side dish (I should have realized this, from the photo) is… (drum roll)…Tater Tots!  "From Sonic?" asks my companion.  That's as good a guess as any, I suppose.  There are so many of them on our plates, I feel compelled to warn the entire restaurant that a Tater Tot Food Fight may break out at any time.
Our wine and dessert are fine and flavorful.  We ordered different wines, but when we tasted each other's (one Italian, one Argentinian), they seemed to be from the same bottle.   I'm giving this a reluctant thumbs down, only the second one I have given and the first not based on tastes I don't particularly care for.
Five sandwiches remain on the menu.  I'm already scheduled for one three days from now.  I may or may not resist going for another in between.  The odyssey should be complete in the next two weeks.  I'm already looking ahead and wondering how I'm going to nail the tough one.  That's the noca Lobster Roll, available only on Wednesday evenings.
March 10: Tea Light Café, Scottsdale
Say, what?
I don't get to North Scottsdale much any more, but I was in the neighborhood today, and convinced some out of town visitors there was no place better for lunch than Tea Light, where I could score another sandwich and check it off my list.
After a slow ten-minute drive around the huge shopping complex in which Tea Light is located, I call them for directions.  Turns out it's the only unexplored corner, to which I am heading (companions in tow, following behind, wondering what the hell I am doing).
We walk in and the place is full of people slurping down what look (and smell) like fantastic Asian soups.  We head up to the counter, article in hand.  "We have everything today except sandwiches."
Turns out the baker didn't deliver anything this morning, so they literally had nothing on which to serve…ah, well…I'll be back.  Sort of embarrassing and annoying, however.
No check marks achieved today.
March 11: Chestnut Lane, Phoenix
This is a sandwich worth many repeat trips!  To call it simply Corned Beef is not to do it justice.  It's a great corned beef, on a toasted marbled rye bread.  But there's so much more to it:  the sweet onion and crunchy sweet pickles (with a small cup of more on the side, all of which disappeared, as well), the mustard and the cheese.  All the ingredients combine for a special flavor treat.
This is a smallish place with few tables, and it was unfortunately a little too cold in the shaded area outside to sit on this sunny but almost wintry Arizona day.  We waited for our sandwiches, but by the time they arrived, a table had freed up, and from that point on (just a little after noon) something was always empty, and no one else had to wait.
Although we didn't sample anything besides the lukewarm coffee, Chestnut Lane serves a lot of other tasty looking dishes, including a lobster Cobb salad (a first for me).  A few desserts were available in the glass cabinet holding them, but we didn't indulge, and the selection had a Starbucks pastry case feel to it.
But the sandwich was superb and nothing remained when we finished.  I would eat one of these every day.  Enthusiastic thumbs up for this, my 17th of 21.  The end is in sight, which would sadden me, except I'm helping others work their way through their own list of 21, and will get to repeat many of the fine experiences I have already enjoyed.
March 16: Tea Light Café redux, Scottsdale
If at first you don't succeed…
First, I made a phone call.  "Do you have any bread today, and are you serving your sandwiches?"  "Yes, we do, and we are."
That was enough to get me to make the trek with one of my Sandwich Questers (my marketing consultant) up to the hinterlands of North Scottsdale once again, in search of the uninspired (at least in name) Chicken Sandwich.  At least everyone knows what it is!
It comes, in a crispy (too crispy, my companion thinks) roll.  The chicken is pulled and tasty.  The other ingredients make for a fine taste combination: cilantro, carrots, lettuce, cucumber slices (I survive a couple of them, and remove the rest) and the special mayonnaise.
The folks remember me from my aborted visit last week.  "What is this, Number 19?" asks the cashier.  Close, it's 18.  Owner Reyness Price comes by, and I tell her I called before coming.  She says the baker doesn't work every day, and when he doesn't, she won't buy the bread.  Hence, no sandwiches those days.  I point to the Phoenix Magazine plaque and suggest that's why she has one of those.  She doesn't disagree.
Tasty.  If I went back, I would sample some of the yummy soups, however.  Based on a non-scientific survey, they are most certainly the popular menu items.
Three to go…  But I'm out of town the rest of the week, so everything goes on hold.
March 30: Duck and Decanter, Phoenix
This place has been around the Valley forever, and it has been years since I have gone.  Obviously, that's not the case for everyone, or the D&D would have slipped into memory decades ago.  After circling this place for several weeks (it had been on the list as "next" for quite a while), I finally made it today.
It's an eclectic place that requires some familiarity…at least this location.  Hidden in the corner of a rapidly-shrinking shopping center on Camelback (at least the Copenhagen furniture place next door doesn't appear to be doing well), patrons thread through the outdoor tables (a great choice on this beautiful sunny day) to the front door.  You order the sandwiches and salads and soups without paying for them; that takes place when you are ready to pick up the completed order.  From there, seating options are the upstairs loft and the outside tables.
The Duckling is a tasty sandwich, and toasting the cranberry nut bread is a good idea, my companion (who ordered it untoasted) soon concludes.  The article said "Toast it," and that was the only hint I needed.  The duck meat is tender and savory, complements the turkey, and all the ingredients work together well.
This sandwich is $2 more than anything else on the menu.  For that, I would appreciate their not scrimping on some of the ingredients as much as they seemed to do.  More cream cheese and more cranberry nut relish would make this even better, and a full taste of everything was true nirvana.
Two to go…
April 8: Bryan's Black Mountain Barbecue, Cave Creek
This place requires a true Road Trip, which is why it is probably just now getting its chance.  Fortunately, a nice sunny day and my desire to escape the things around me, got me into the car and up Cave Creek Road for a scenic drive across the (presently) green and yellow Sonoran Desert.
Bryan's is an attractive place, with appealing tables and chairs (at least on an 80-degree day) in front.  I have always been a barbecue fan, but I have never gone out not to order MEAT.  Today is different, however, because my quarry is the "Pulled" Squash sandwich.
It's listed on the menu as a "vegetarian" barbecue sandwich, and that's what it is, because it's spaghetti squash shredded and served between the buns with sauce just as proudly as if it had been—which it wasn't, don't misunderstand me—pulled pork.
The cashier commends my choice.  I order the "protein" version, with an over easy egg on top of the squash.  I also ordered the "olive-studded, creamy cole slaw" from the article, even though I'm not a cole slaw fan.  Particularly because (as in this case) "creamy" means "mayonnaise."  I picked at it, so I can say I have tried it.  It was dry on top, but at the bottom of the cup, the ingredients were virtually swimming in the "cream."  Most of it went back when they cleared the table.
The sandwich arrives, and it is beautiful!  The ingredients are lovingly placed inside a big, soft, spongy toasted bun.  Unfortunately, the bottom of the bun can't contain it all well enough to pick the sandwich up.  So I attack it with a fork.
Squash stays hot for a lot longer than meat, and I'm surprised at how "hot" the sandwich still is (to the point of moderating bite size) as I work my way through.  Also, there's more liquid in the vegetable, and it drains out, further eroding the lower level of bread.  It all produces a great flavor combination, one that didn't even have me ladling on copious amounts of additional barbecue sauce…something I normally do automatically.
The sauce was interesting…not as sweet as Kansas City or Texas sauce, but not "southwest" as so many local sauces try to be.  It tasted just fine, and I'm sure I would use plenty of it on a meat sandwich.
The egg is a nice touch, and it bursts its yolk all over the plate.  I'm not a vegetarian, but I could even see myself ordering this sandwich again, even IF they also sell brisket!
I'm on the home stretch now.  Twenty down, one to go.  That one is a biggie…the $30 lobster roll available at noca ONLY on Wednesday nights.  It will be at least two weeks before I finish the Great Sandwich Odyssey.
April 21: noca, Phoenix
This culminating evening, one I had awaited with great anticipation, was also the absolute highlight of the sandwich tour.  For $23, it should have been.
The Lobster Roll is on the menu tonight, since it's Wednesday.  I belly up to a counter looking into the kitchen, although a short shield makes it difficult to see what's going on, or what the chefs are cooking.
I'm not particularly impressed with the décor and ambience of noca.  It's probably just a matter of personal taste, but it works too hard to say "trendy," "chic," and "totally cool."  And the wait staff tries a little too hard to be attentive, to the point of distraction.  Maybe it's because I am at the counter, and everyone must approach me from behind.
The lobster goody arrives, and it is everything advertised!  The sweet, meaty chunks of lobster are to die for, and the combination of ingredients making up the mixture in the roll work perfectly.  The roll itself is pretty cute…maybe eight inches long, buttery and crisp.  It's a small sandwich, but the ingredients are first class and are piled high above the edge of the sandwich.
Proud of my achievement, all 21 sandwiches in a little less than three months, I savor every bite.  It tastes good, and the accomplishment feels good.  The sides, the thinly sliced sweet pickles, and the duck fat fries with the paprika aioli, make for a perfect combination.
It's over, but I am not disappointed.  With only a couple of exceptions, I have had wonderful experiences with new restaurants, new sandwiches, and (sometimes) new tastes.  Several different people have accompanied me, and I have also gone alone.  Nearly everyone at the restaurants responded enthusiastically to my mission, and I wonder who in Phoenix has actually tasted them all?  (Even the magazine article included contributions from several different people, of whom I wonder—have they tasted their colleagues' faves, too?)
I have now added America's Taco Shop and Pane Bianco to my list of favorite places.  I have been back to America's twice (she has now opened a sister restaurant over on 7th Ave. at Campbell, which was one of my repeat visits), and I adore the carne asada torta.  But I can't get enough of Pane Bianco's Tomato, Basil and Mozzarella sandwich.  This is the most perfect combination of the purest and simplest ingredients, and it is simply fabulous.
I think about it nearly every day, and even though the hours (four hours, five days a week) are incredibly restrictive, I have learned those hours, and have returned several times.
In fact, I'm on my way there now.  Just as soon as I put -30- at the end of this report!