Have you been to Saba's Mediterranean Cuisine yet? If not, you should definitely check them out! We've been to Saba's on numerous visits this year upon a recommendation from my father.
Saba's is located at Tatum Blvd. and Bell Rd. in Phoenix, AZ.
Saba's has quickly replaced our former favorite in this category, which will go unnamed, but rhymes with jungle.
Okay, so on to the meals:
Saba's serves delicious traditional Mediterranean fair including my personal favorite: Lamb Shawarma, their mouth watering tender braised & shredded leg of lamb.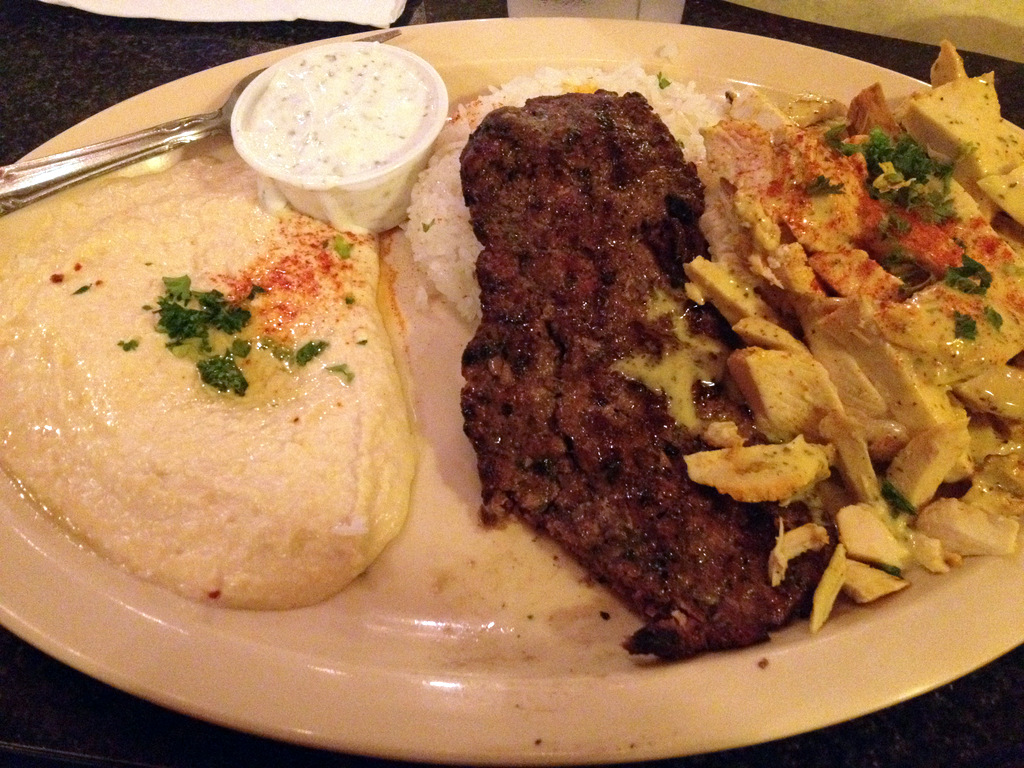 Above: The hummus, Beef Kuefta, and Chicken Shawarma… probably my favorite.
After trying pretty much everything on the menu, I've determined my favorite two-main-item combo to order is the Lamb Shawarma, the Chicken Shawarma, with Hummus, and Basmati Rice on the side.
The other options for a main dish are:
Gyros Meat, which I've also tried and it is delicious.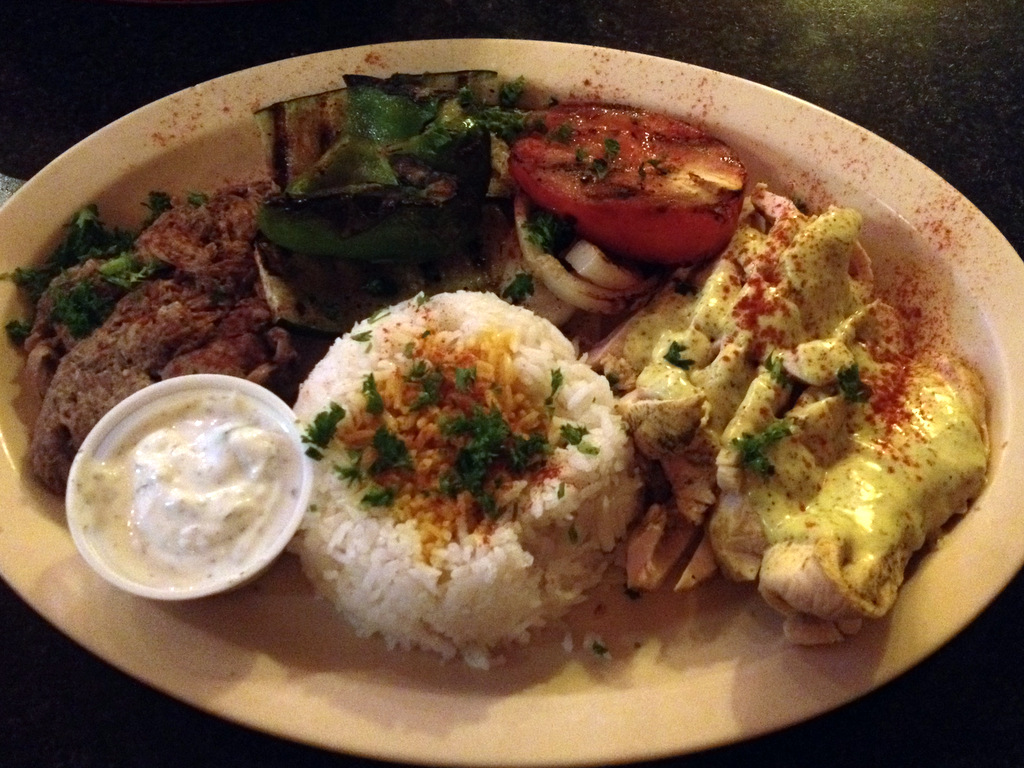 Above: Some of the rice and grilled veggies, along with Beef and Chicken Shawarma
Chicken or Steak Kabob's, which are marinated pieces of cut beef char boiled.
There are also Beef or Lamb Kuefta's which are a delicious and extremely interesting mixture of Middle Eastern Spices, ground lamb, and parsley and onion mixed into a patty.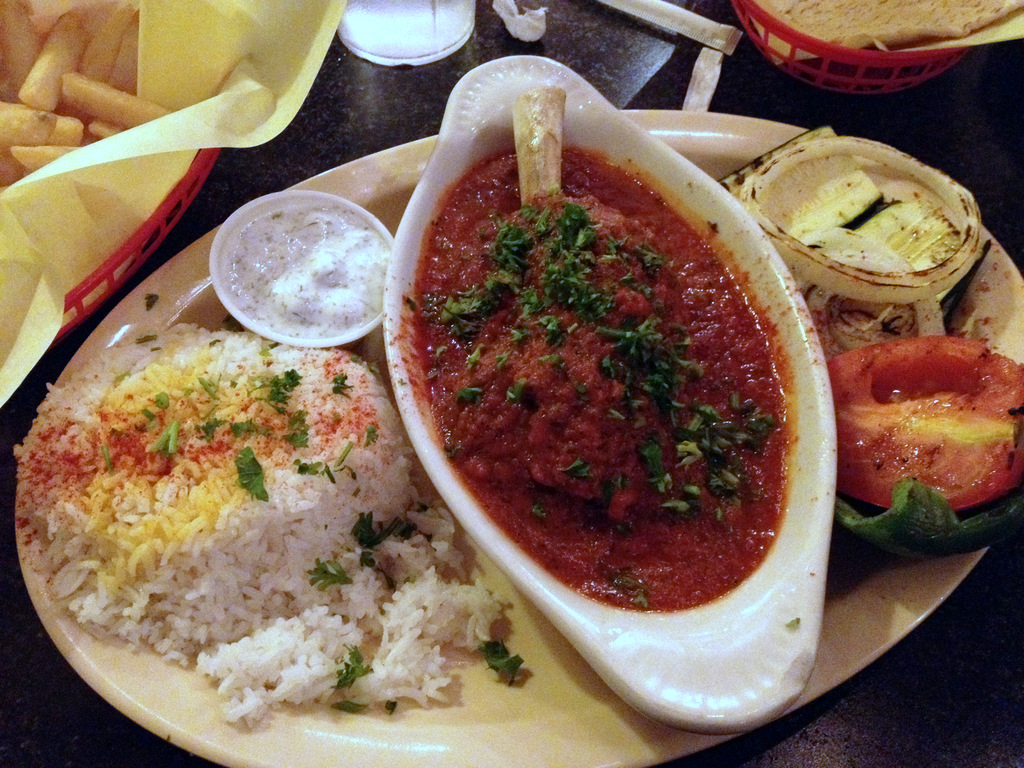 You can also order Lamb Shank (pictured above), which I've tried and while this was very good, I'm not as much a fan of the tomato garlic sauce topping (I do understand it is traditional).
They've got seafood, too! Including awesome Shrimp Kabob's, and Baked Prawns.
They have a very diverse vegetarian selections as well, including your traditional favorites like Falafel is their vegetarian patty made with fava beans, chick peas, parsley, onions, and other spices. Then they deep fry it until it's crispy. Saba's also serves a number of salads, all of which come without meat (or you can order meat to be included).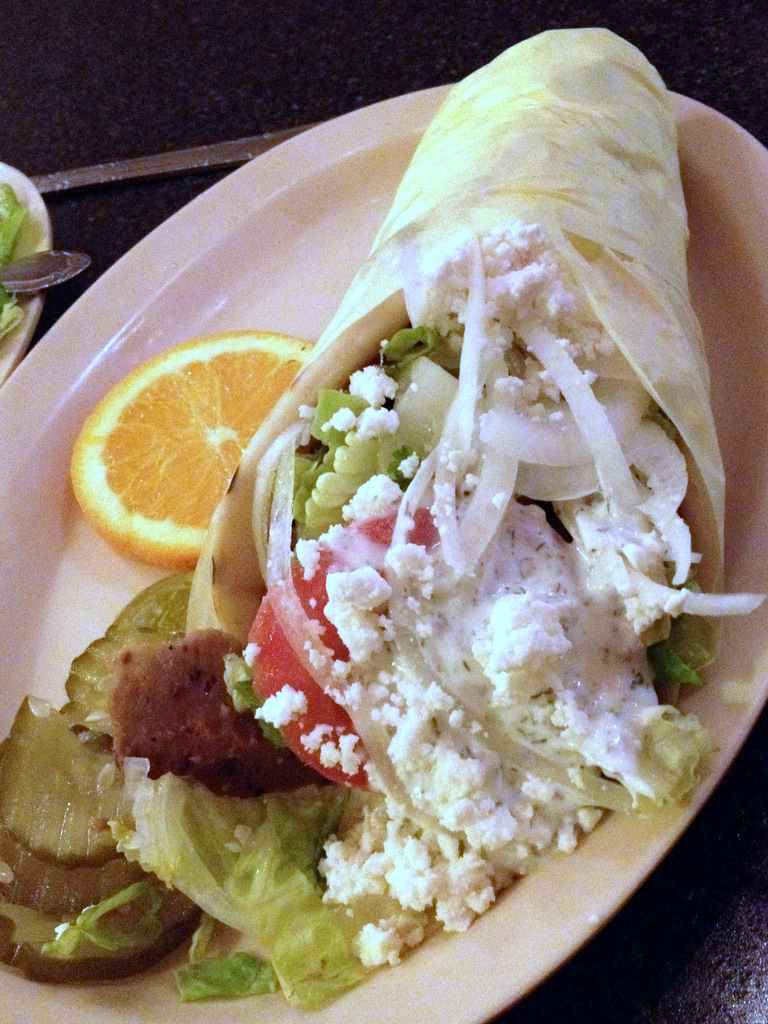 Above:  Saba's World Famous Greek Gyro
Saba's has six Vegetarian Pita Sandwiches on the menu, including a Falafel Pita, Veggie Dip Pita, a Greek Salad Pita, a Tabbouleh Salad Pita (includes a layer of hummus topped with tabbouleh, feta cheese, and various veggies).
There's also George's Caprese Pita, which includes fresh mozzarella, tomatoes, onions, and cucumbers. They top that with feta cheese and a pesto aioli sauce that they make every day.
On top of that impressive list, they have 9 vegetarian starters, plus a variety of vegetarian dips.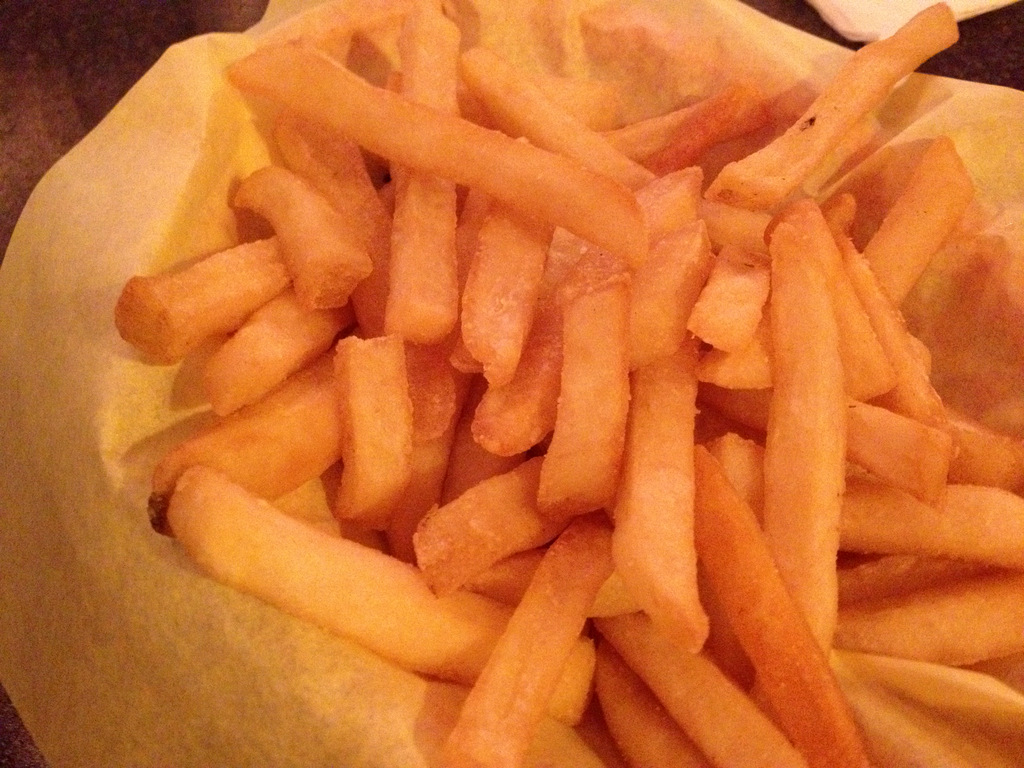 Above: We love the french fries. You can order them with feta cheese and buffalo sauce, too!
You can add home made french fries to any meal, and you can get them as Greek Fries (topped with feta cheese, oregano, and a lemon wedge). They also have an awesome Spicy Feta Fries option (which includes ranch dressing, and spicy buffalo sauce)… it was surprisingly good.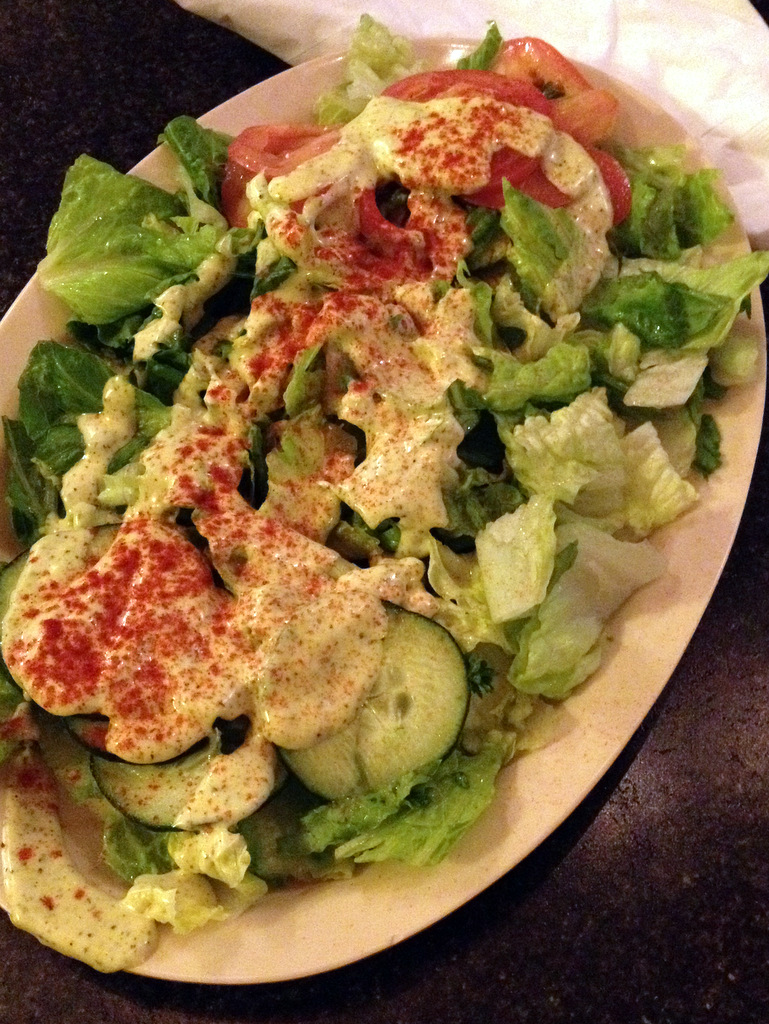 Pictured above, the Jerusalem Salad.
Other side options include Hummus, which is really excellent, and Basmati Rice (I usually order this), and they also have fresh Grilled Veggies, Steamed Veggies, or Tabbouleh (which is chopped parsley, cracked wheat, onions, tomatoes, cucumbers, lemon, olive oil with a mixture of Middle Eastern spices)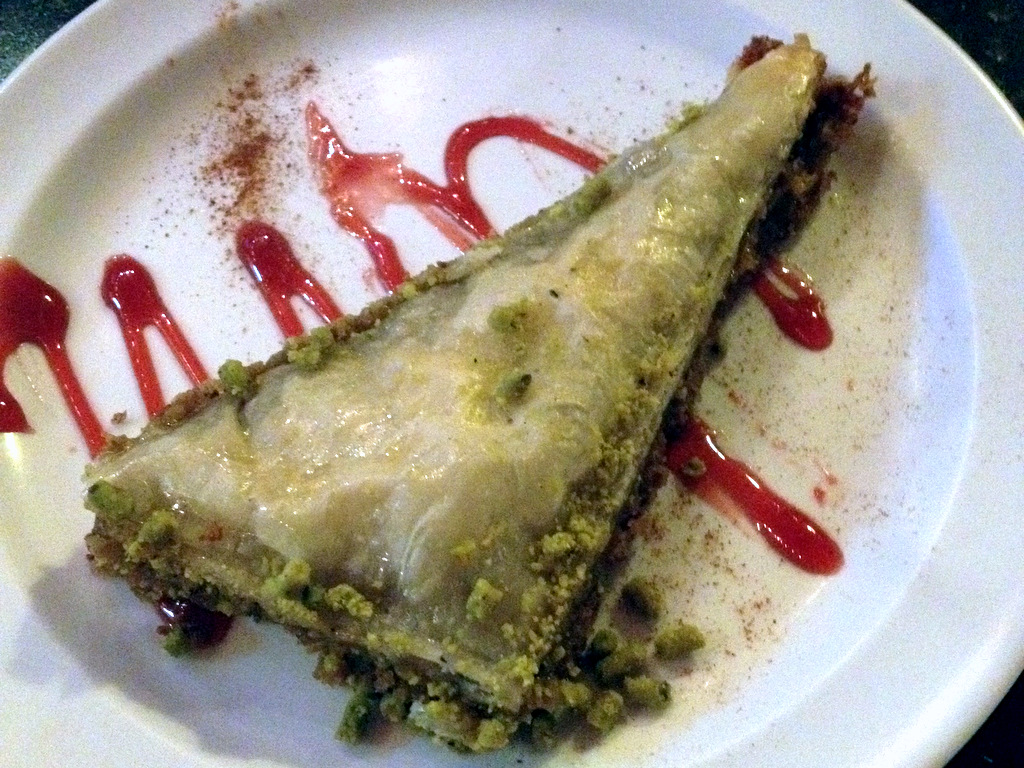 Pictured above: The Pistachio Baklava.
For dessert, I've tried their Baklava on several visits. They have two flavors: Walnut or Pistachio and on each visit I've chosen the Pistachio because I love them. Always a treat.
This is a family owned establishment, and the owner, George, runs and operates the restaurant. We've really enjoyed exploring the menu, and Saba's has become our new favorite for Mediterranean food.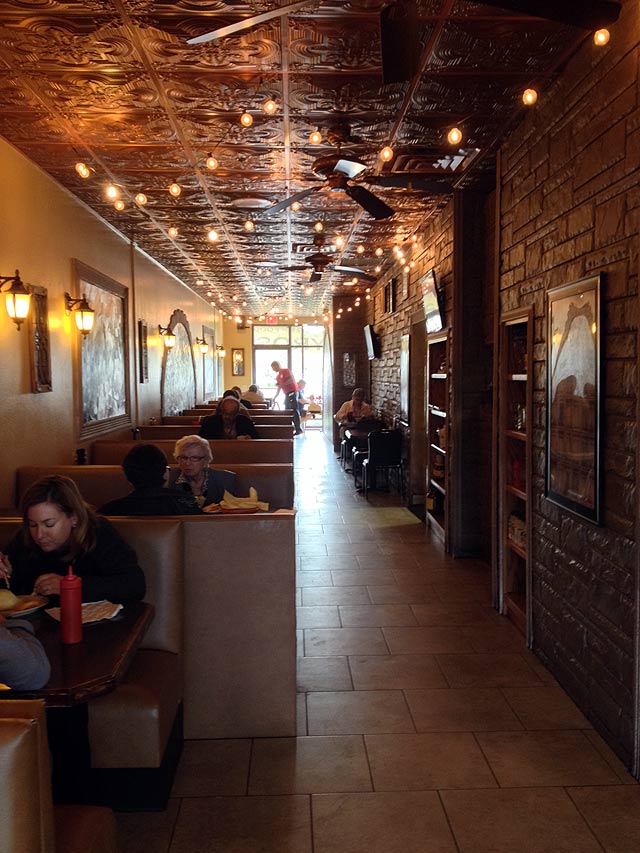 Above: Here's a photo of the interior, with awesome spacious booths.
I hope you enjoy your visit!
Getting there
Saba's is open every day except Sunday.
Saba's Mediterranean Cuisine
4747 E. Bell Rd.
Phoenix, AZ 85032
Phone: (602) 493-4831