Are you searching for the best burger in the valley? No list would be complete without Rehab Burger Therapy located in Old Town Scottsdale. Located at 7210 E. 2nd St., Rehab Burger Therapy is just that, therapy for your burger woes. If you've been looking for an absolutely delicious burger you've got to try Rehab.
Is it the best burger in the valley? That's arguable, but it certainly makes my top-5 burgers list and wins extra points for having a wide variety of buns and sauces for your hamburger. In fact, you can choose from these types of buns: Brioche, Pretzel, Wheat Kaiser, or Gluten Free. So far, we've tried them all (except for the gluten free) and our favorite is the Brioche bun. Sure, the Pretzel is unique, but it's also a little heavy and I should probably lay off the carbs anyways.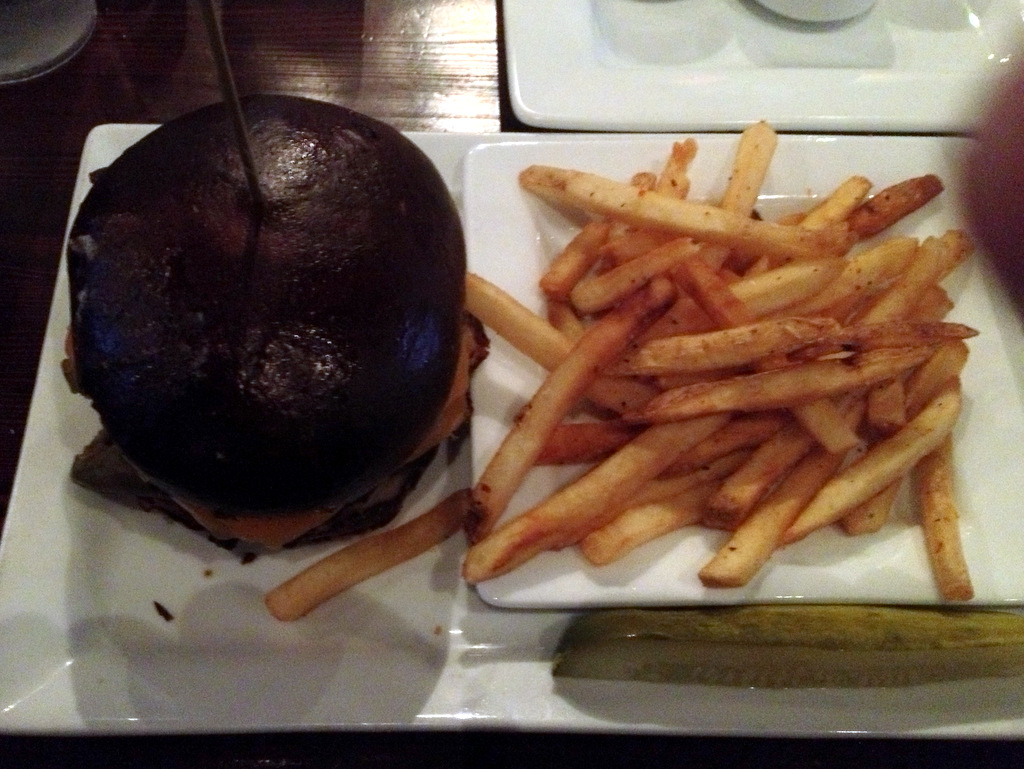 A build-your-own-burger with a pretzel bun.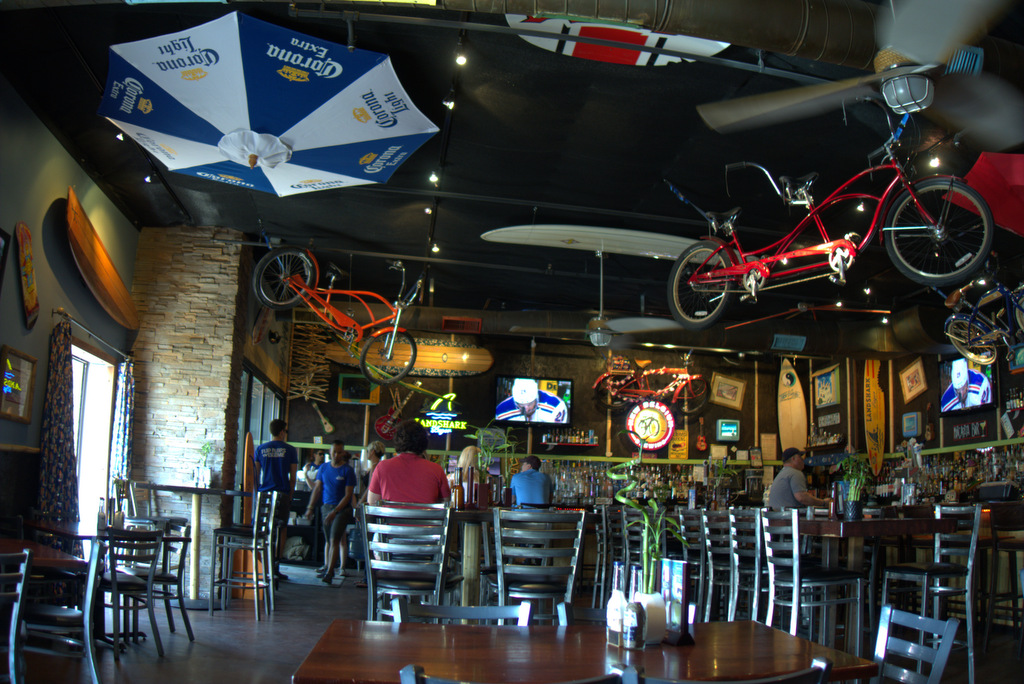 The interior of Rehab Burger Therapy (2014).
Ok, on to the burgers themselves: Rehab lets you order your burger any way you want, so I asked for "medium" and it came that way each time. So they're winning in the consistency department. I've also been really pleased with the variety of burgers. For example, they have a burger called the Hangover Burger which is now my personal favorite. On top of the hamburger (choice of either 10 oz. or 5 oz.) it comes with a fried egg, bacon, hatch green chili, and jack cheese. It's like eating steak and eggs on a hamburger.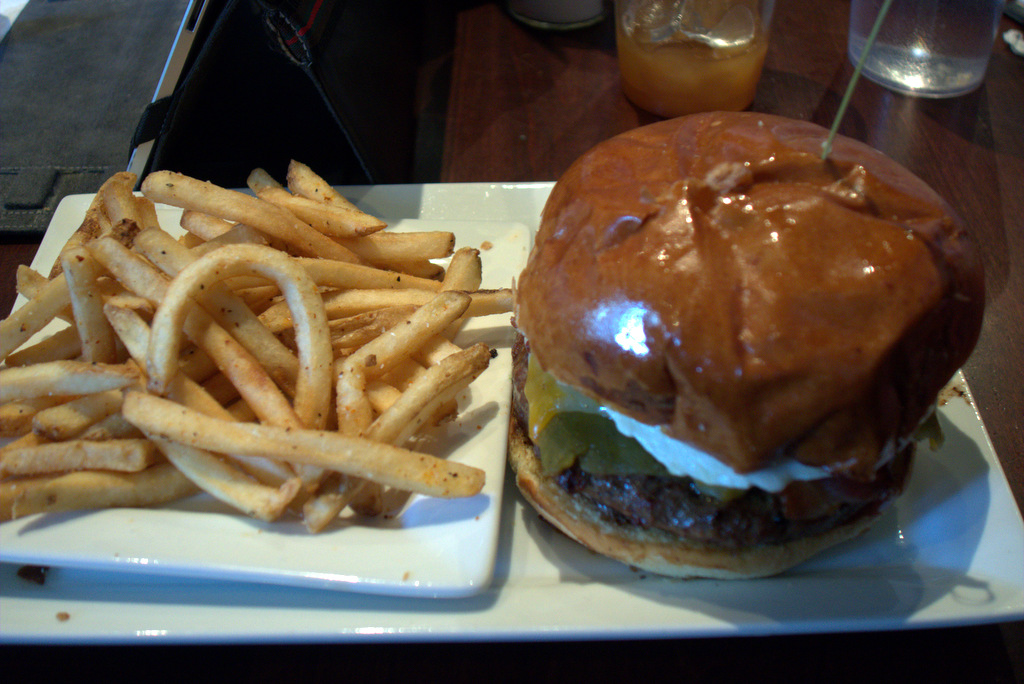 The Therapy Burger.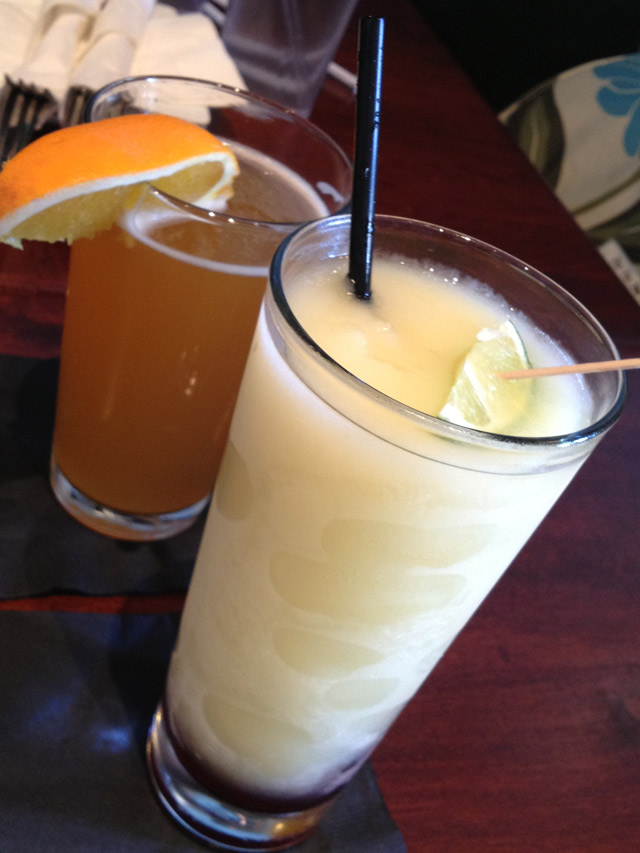 Lots of drink options from the bar.
Rehab Burger has some really interesting burger varieties. For example, you can get a PBJ & Bacon Burger, which comes with Peanut Butter, Grape Jelly, and Bacon and Sriracha Sauce. That's hot! You can also get a Mac Gnarly Burger which has two burger patties, cheddar cheese, and 1,000 island dressing. There's about a dozen creations in all, and you can even build your own. Or, alternatively, go with a fish, chicken, or pulled pork sandwich.

The Turkey Burger is also really great. It's topped with pepper jack cheese, avocado, lettuce, tomato, and sprouts. Quite excellent flavor, fresh ingredients, and cooked just right.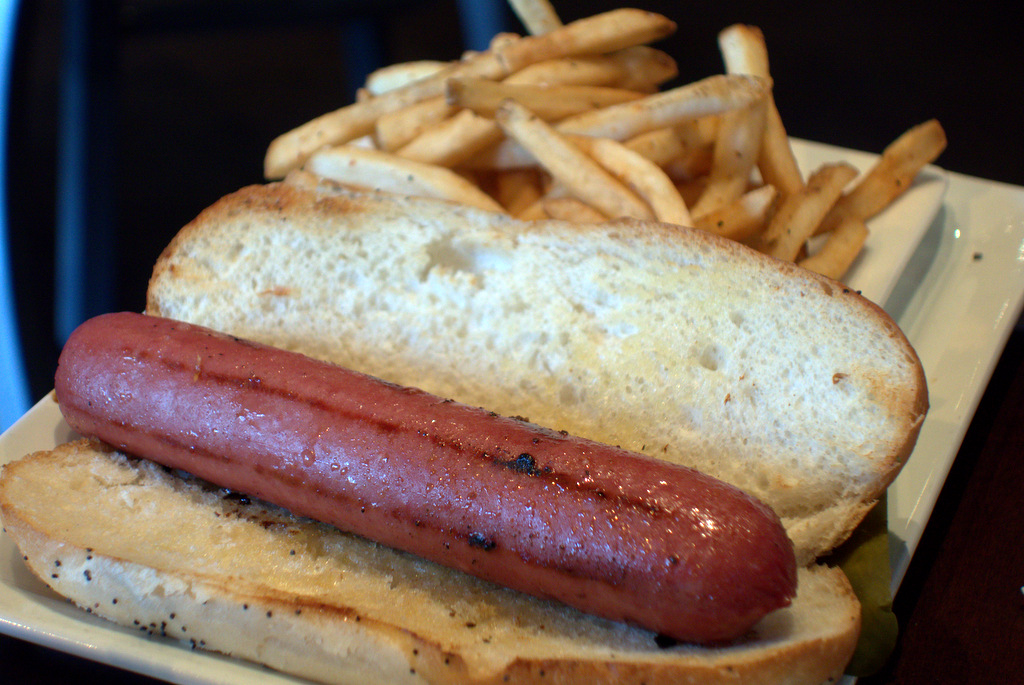 For the kids, try this Therapy Hot Dog combo.
You'll have your choice of sides, but we've typically ordered a mix of the Skin-On Fries, or the amazing Sweet PoTOToes. They come free with the burgers, unlike many of the burger joints in AZ which are selling the fries separately. The sweet potatoes are awesome! They're like little fried donuts, except they're sweet potatoes.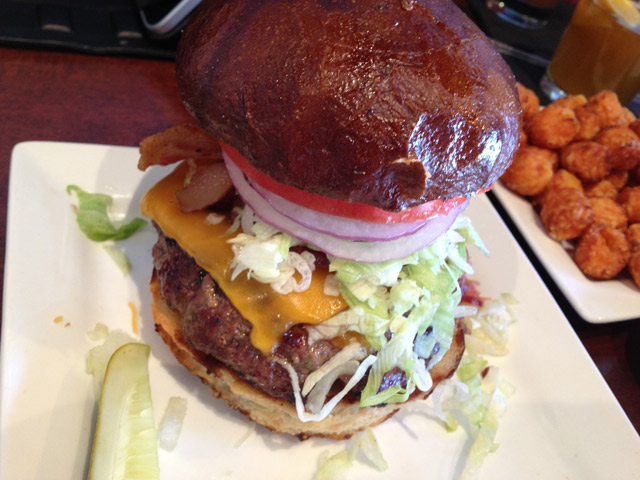 Oh, and as I mentioned, they have these really terrific side sauces. They call them their Rehab Sauces. We've tried many of them, but our favorites are the Spicy Pineapple BBQ, the Chipotle Ranch, and Chipotle Aoli. They have the typical sauces as well, like ketchup, mustard, and some unique ones like Pesto Aioli and Pineapple Teriyaki Aioli. Good stuff, and all included in the price of a burger. They go great on the burger, or with your french fries.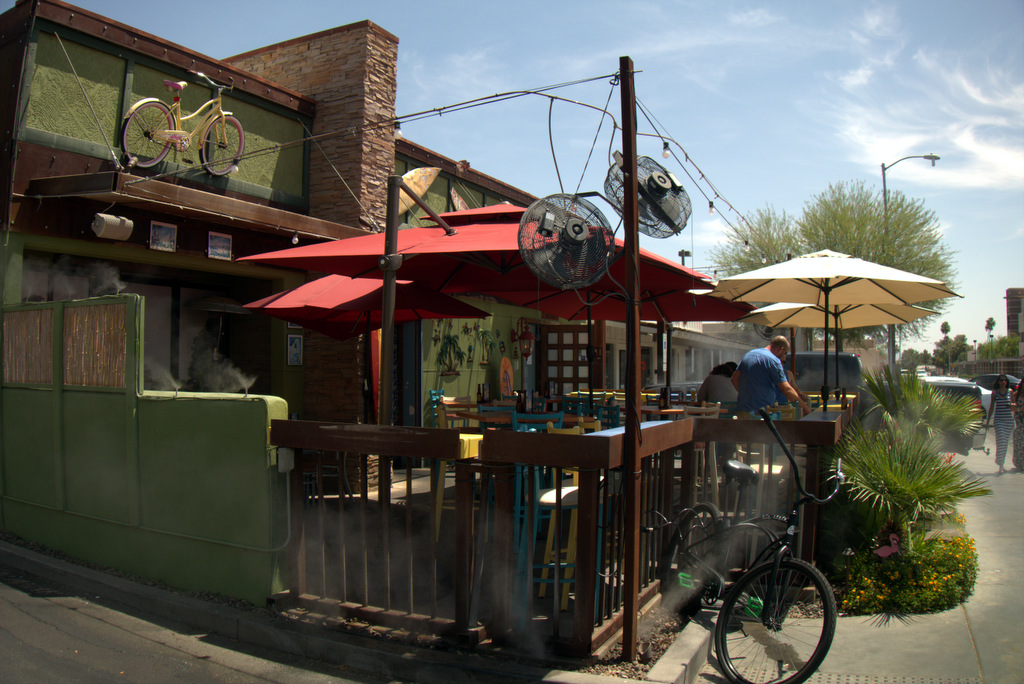 Lots of outdoor patio seating.
Rehab Burger also has a full bar with lots of drink options. They also serve milkshakes. The restaurant has, at last count, 8 or so televisions. So, if you want to watch a game, you'll probably find it on television there.
I've tried many of the burgers and they've always been delicious, and the atmosphere is really relaxed. Rehab Burger has become a regular staple in our quest to find the best hamburger in the valley.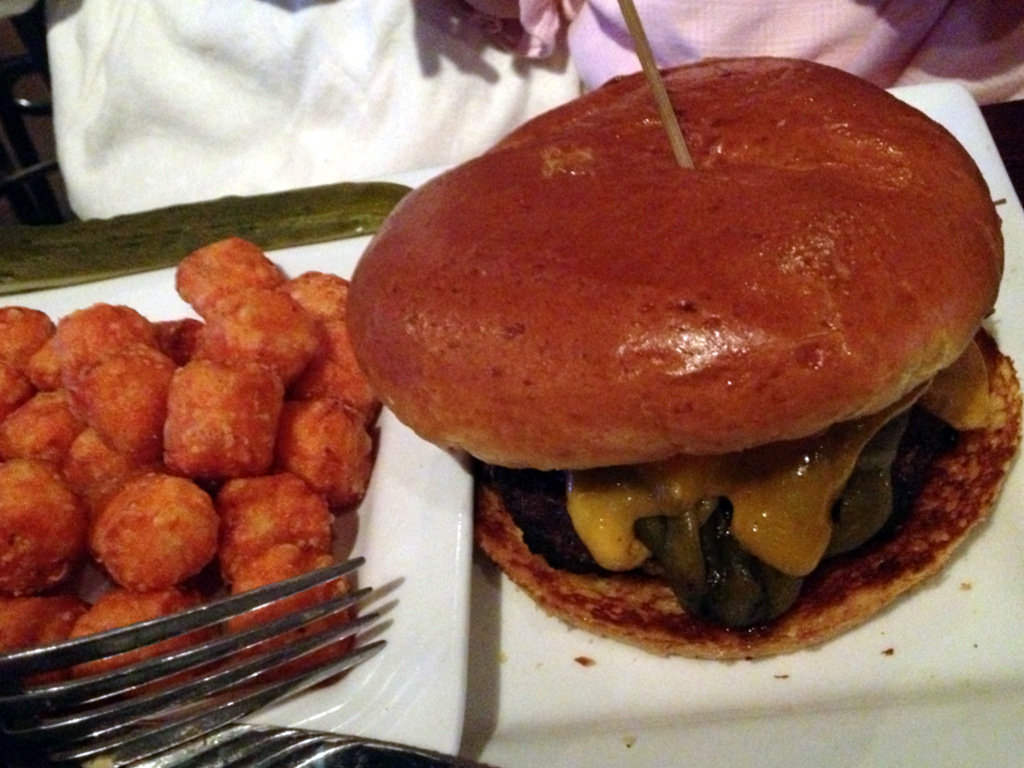 Rehab Burger Therapy
7210 E. 2nd St.
Scottsdale, AZ 85251
Phone: (480) 621-5358